Trevithick project will perpetuate historic story for future generations
Categories : Press Release
31 Jan 2020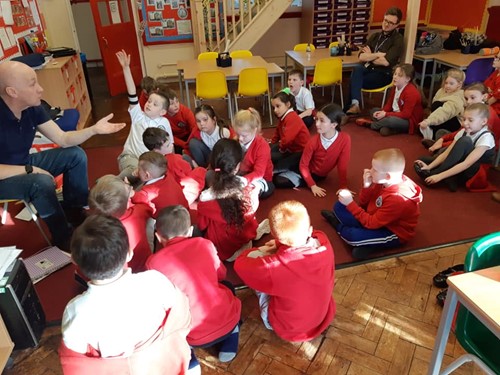 Merthyr Tydfil schoolchildren are continuing to learn about a significant event in the town's history through a project combining art, creative writing and filmmaking.
During the month leading up to the annual celebration of the world's first steam locomotive journey, which took place in Merthyr Tydfil in 1804, six primary schools are taking part in a competition to produce a work of art and piece of creative writing about the locomotive's engineer and designer Richard Trevithick.
The schools involved - Gwaunfarren, Edwardsville, Troedyrhiw, Caedraw, Ysgol Rhyd y Grug and Bedlinog - will also be treated to a performance by local heritage interpreter and storyteller Tony Thomas, acting as Trevithick and leading them in a walk on the trail running along the route of the original tramroad to Trevithick Tunnel, site of the historic moment.
On Trevithick Day itself, February 21, members of the public will be invited to the tunnel to enjoy Tony Thomas's re-enactment, while local historian Huw Williams is giving a talk about the achievement at Redhouse Cymru.
The project is being run jointly by Merthyr Tydfil Heritage Trust, Merthyr Tydfil Leisure Trust and the County Borough Council, supported through £3,000 funding from the Ffos-y-fran intermediate grant fund.
The schools are finding out about Trevithick through classroom lessons, before becoming involved in the production of a film featuring them talking about and asking their families what they know of the man and the event.
They also attended a historic costume workshop delivered by staff from Cyfarthfa Castle Museum & Art Gallery, where they discovered what life was like in 19th Merthyr Tydfil.
County Borough Council Cabinet Member for Regeneration and Public Protection Cllr Geraint Thomas said: "The Trevithick story is massive for Merthyr Tydfil – it transformed the world - and yet not everyone living here is aware of it.
"This brilliant project will help the schoolchildren become familiar with what happened in 1804 and pass on their knowledge to their families, hopefully ensuring future generations of residents will continue to celebrate this historic event."