Troedyrhiw Primary becomes Gold School in Community Engagement for 'Y Stryd Fawr' Project
Categories : Press Release
09 May 2023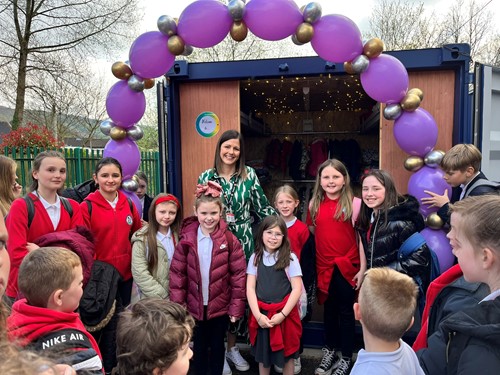 Troedyrhiw Community Primary School has proudly launched their award-winning Preloved, Nearly New shop, the first of two shipping containers to be opened in Y Stryd Fawr Troedyrhiw.
Sue Davies, Director of The Foundation of Community Engagement, presented the school with not one but two awards in the last year for their inspirational community work; initially with the Silver award and now with the Gold Award in Community Engagement.
Preloved, Nearly New offers good quality second-hand clothing and uniform for the local community at a 'pay as you feel' service, meaning families donate items they no longer need and pay whatever they can afford. The clothes available are from new-born to 16 years. The quality is varied, with some items brand new and still tagged.
The second container will be a food pantry known as the Big Bocs Bwyd and will be opening in the coming months. Working in partnership with FareShare Cymru, they will supply the food that the local community can access at a low, affordable cost or for free.
FareShare Cymru was established in 2010 and began delivering food in July 2011. By using quality, in date surplus food which would otherwise have gone to waste, they turn an environmental problem into a social solution, with the goal of fighting food waste and hunger. 
Rebecca Evans, Deputy Head and lead of the Foundation of Community project said;"Y Stryd Fawr is such an important project to us. We know these two community shop containers will support our families and local communities at a time where things are very challenging and the cost of living is getting unmanageable.

We want to do our best to ensure our children have clothing and food without an increased cost to the families. As well as supporting the community financially, this is also a sustainability project, as we will be stopping more clothing going to waste and the food pantry stops unwanted food going to landfill."