Victoria Street temporary closure for zebra crossing work
Categories : Press Release
20 Jan 2022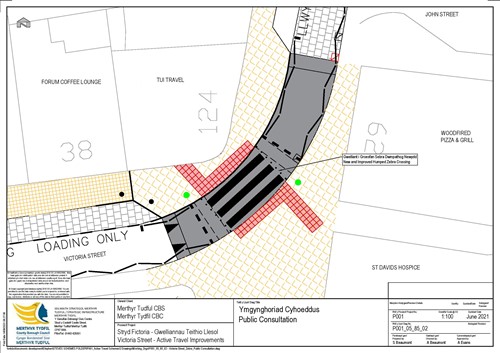 Victoria Street in the town centre will be temporarily closed next week for work on converting the existing informal crossing into a zebra crossing.
A closure order will be in place from the Castle Street/Wheatsheaf Lane junction from 8am on Wednesday 26 January until 11.30pm on Friday 28 January.

Access will be restricted to all vehicles except for taxis and deliveries to businesses, which will be able to enter and exit Victoria Street via Castle Street. A traffic management system will operate at the Castle Street/Wheatsheaf Lane junction to guide drivers between 7am and 5pm, with the road closed to all vehicles outside these hours.

The zebra crossing project is one of a series of walking and cycling improvement schemes being carried out by the Council as part of its Welsh Government-funded Active Travel programme.
Should you have any questions or concerns in relation to the work, please contact the scheme's Public Liaison Officer, Georgie Davies. Georgie can be reached from 8am to 5pm Monday-Friday via telephone on 0330 0412 183, or email georgie.davies@alungriffiths.co.uk
Alternatively, you can email the active travel inbox at Active.Travel@merthyr.gov.uk
Thank you for your patience and cooperation while we carry out this work.