We want your help to name the Council's new recycling vehicles!
Categories : Press Release
22 Dec 2022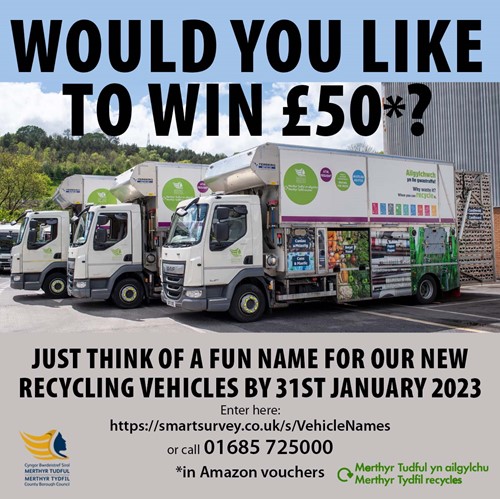 We heard of an English Council giving its residents the opportunity to name their gritting fleet, with some wonderfully creative names being suggested; David Plowie, Gritty Gritty Bang Bang, Walter The Salter and Spreaddie Mercury, to name just a few. So, we didn't want to let this opportunity pass without having some fun with it!
The competition is open to Merthyr Tydfil residents of any age and closes on Tuesday 31st January 2023. The chosen names will be proudly displayed above the cab of each vehicle and winners will be gifted a £50 Amazon voucher each.

To submit your suggested name(s) visit: Name our new Recycling vehicles (smartsurvey.co.uk) or call 01685 725000 with your suggestion.