Work begins on £4.4m affordable housing project
Categories : Press Release
06 Aug 2021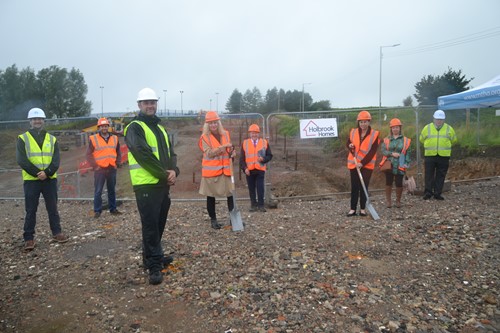 Work has begun on the construction of 31 'high quality' new homes for rent as part of a £4.4million development in a rural part of Merthyr Tydfil.
The Merthyr Tydfil Housing Association (MTHA) project at Bryniau Road, Pant is being partly funded by Welsh Government Social Housing Grant awarded through the County Borough Council.
Local contractor Holbrook Homes will build 15 one-bedroom flats, 12 two-bedroom houses, two three-bedroom houses and two two-bedroom bungalows on an area of waste ground on the road to Pant. As part of the contract, Holbrook Homes is providing new job and skills training opportunities both directly and through its supply chain and subcontractors.  The company also plans to work with nearby Pantysgallog Primary School on a range of projects in and around the school.
 The 'first sod' at the development was cut yesterday by Council Leader Cllr Lisa Mytton and Karen Courts, Chief Executive of Merthyr Tydfil Housing Association.
Along with the Social Housing Grant allocation of £2.6m, MTHA sourced private finance of £1.8m.  The Social Housing Grant is an annual budget allocated to local authorities in Wales every year to fund housing schemes that meet local housing need and priorities.  The councils are responsible for choosing housing association partners to develop, own and manage the housing.
"The Social Housing Grant investment has been secured through the strong partnership working between the County Borough Council and MTHA to deliver on the needs for new affordable housing in Merthyr Tydfil," said the Council's Deputy Chief Executive Alyn Owen."It represents the latest example of the Council and MTHA working together to bring forward new development and regeneration projects, of which there are a number of further examples in the pipeline," he added "This new estate is also in a beautiful part of the county borough and its residents will be living in a pleasant, rural environment with stunning views."
Karen Courts said: "With the support of the local authority, grant funding from the Welsh Government and private finance from the Association, this scheme will provide 31 new homes that will be available for let at an affordable rent"We are delighted to be working with Holbrook Homes on this exciting new development and look forward to the delivery of high quality homes for our tenants."
Gareth Bevan, Managing Director of Holbrook Homes said"As a local business, we're committed to making a positive contribution to the local communities in the County Borough, both directly and through their supply chain and subcontractors."
The new homes are expected to be completed in July 2022 and their availability will be advertised ahead of that through MTHA.