Ysgol Y Graig Primary School is officially opened by actor Steve Speirs
Categories : Press Release
06 Sep 2023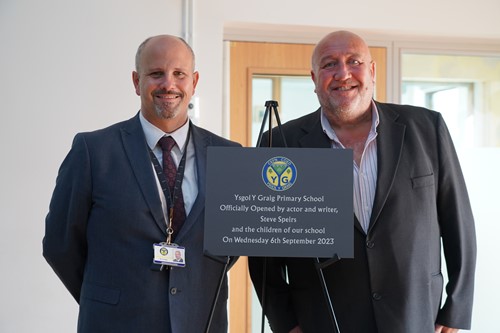 Whilst the state-of-the-art school, built on the former Vaynor & Penderyn School Site in Cefn Coed, opened its doors to learners in September 2021, the site was officially opened today by actor and writer Steve Speirs.
Since 2021 the school has achieved several accolades, including the Platinum Eco Schools Award, which is supported by the development of their grounds to deliver Forest Schools, the Silver Cymraeg Campus Award and an Excellence in Science, Technology, Engineering, and Mathematics (STEM) teaching Award.
The school is truly a Community Focused School, with its own separate community room on-site where parents and the wider community have the opportunity to engage with a range of activities during and beyond the school day. Community events put on over the past two years have raised over £9,000 to support further community work.  
During consultation with learners, parents, and residents it was clear that it was important to them that the history of the school was not forgotten, so the Howard Barrett Memorial cup for Sports day was set up in remembrance of the former Mayor, local Councillor and member of the school's governing body. There is also a memorial bench and tree to remember much-loved former headteacher Matthew Harries.
Speaking at a packed school assembly, Steven Speirs, said: "What an honour it is to be invited here today to be a part of this celebration.
"It fills my heart with immense joy and pride to stand here, witnessing the realisation of a long, cherished dream that will undoubtedly shape the future of the community of Cefn Coed.
"From its foundation to its heights, this building reflects the strong foundation we seek to provide for our children; a foundation built on love, compassion and inclusivity."
Speaking directly to the learners, he added: "You are what makes this school alive. Create your own dreams – the future is bright; the future is yours."
Headteacher, Mr Anstee, said: "Today marks an important new chapter in the life of Ysgol Y Graig. We are so incredibly proud and thankful for our fantastic new building and look forward to its role in shaping the learning and lives of the children who come through its doors."
Ward Councillor, Lisa Mytton, said: "I was so proud to attend the official opening today of Ysgol Y Graig.
"To see the children in this beautiful building on the old Vaynor and Penderyn site was very emotional, especially after all the years of fighting to have it there.
"I must thank all of the community who helped us achieve this, and – of course it goes without saying – my late colleague Howard Barrett, who would have been overjoyed to see it today."
Councillor Michelle Jones, Cabinet Member for Learning, said: "Today was a proud moment for everyone involved with the school.
"A very big thank you to everyone in seeing this project through, especially Kier Construction for undertaking the building work on this new facility, which certainly meets the vision of the school: Opening eyes, Developing minds and Changing lives."
ENDS