About The Mayor
Her Worship the Mayor, Councillor Margaret Davies 2016 - 2017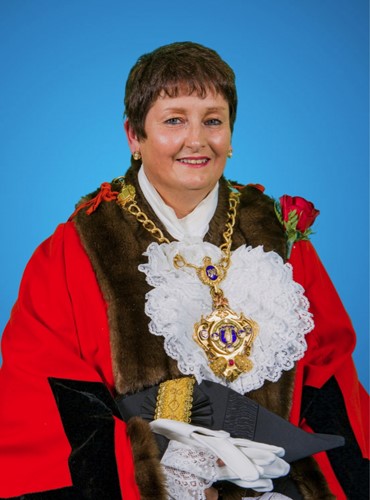 Councillor Margaret Davies was inaugurated to the office of Mayor of the County Borough of Merthyr Tydfil on 18th May 2016. She has represented the Cyfarthfa Electoral Division since November 2012 following a by-election. Margaret was born on 29th April 1960 and lives in Twyncarmel with her two sons, Gareth and Huw, and she has two brothers and one sister.
On leaving school at 16 she became a Veterinary Nurse working in the practice on Aberdare Road for 6 years and a further 2 years in Mountain Ash. She has run a newsagent and post office in Portsmouth and a newsagent in Dinas Powys. Following that she worked in Howells in Cardiff. In 1989 she started work at HMRC and joined the PCS Union. She was a union rep for PCS Wales, Revenue and Customs Branch for 16 years, the second largest in Wales with only the DVLA in Swansea being bigger. During this time, she became one of the most qualified lay-reps in Wales, trained in Employment Law to Employment Tribunal Standard. She specialises in the Equalities Act 2010 and has been Chair of Merthyr Tydfil Trades Union Council for eight years. She also sits on the General Council of the Wales TUC.
Margaret has been a School Governor at four different establishments in the County Borough - She was Chair of Governors at Trefechan Nursery for four years, a Governor at Ysgol y Graig Primary School in Cefn Coed for 10 years, a Governor at Cyfarthfa High School for four years and a Governor at Coed-y-Dderwen School on Gellideg for eight years and is currently the Deputy Chair of Governors. She is appointed to the Schools Scrutiny Committee and also represents the Council as a trustee with the Citizens Advice Bureau.
As First Citizen of the County Borough of Merthyr Tydfil, Councillor Davies's duties include chairing full meetings of the Council and representing the Council at formal and ceremonial occasions within the County Borough, regionally, nationally and internationally. She will welcome visitors to the County Borough and attend and support events organised by local people and organisations.
During her year of office, the Mayor will be busy raising funds for her chosen local charity, which is Prince Charles Hospital. All funds raised will go towards purchasing essential equipment for the hospital. All monies raised will be used solely for the benefit of our community.