The Mayor 2017/18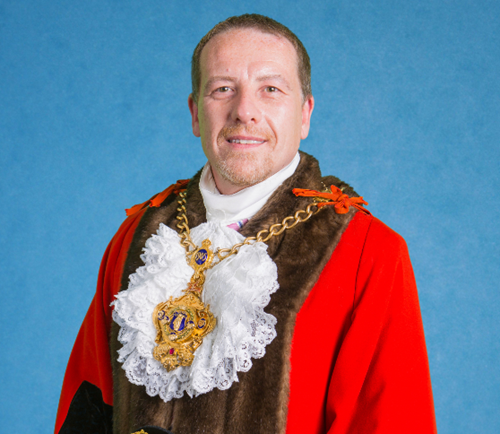 Councillor Kevin Gibbs was inaugurated to the office of Mayor of the County Borough of Merthyr Tydfil on 14th June 2017.
He is a newly elected Councillor and represents the Penydarren Electoral Division. Kevin lives in Galon Uchaf with his wife Kerry and four children.
Kevin was born in Merthyr Tydfil and was educated at St Aloysius Primary School and then Bishop Hedley High School.
During his career, the Mayor has worked in Barclays Bank, and has been a Charity Fundraiser for Follow Your Dreams and has also worked for Lloyds Bank from which he retired in May 2017.
As First Citizen of the County Borough, Councillor Gibbs's duties include chairing full meetings of the Council, representing the Council at formal and ceremonial occasions, regionally, nationally and internationally. The Mayor will also be expected to welcome visitors to the County Borough and attend and support events organised by local people and organisations.
During his year in office, the Mayor will be busy raising funds for his chosen local charities, which are the Donation Station Merthyr Tydfil and National Autistic Society - Merthyr Tydfil. All funds raised will go towards the wonderful work these charities have already undertaken in our County Borough and continue to do so. All monies raised will be used solely for the benefit of our communities and the Mayor will continue to work closely with both charities during his mayoral year.
The Deputy Mayor is Councillor Clive Tovey.
To Contact the Mayor:-
Mayor's Office
Civic Centre
Castle Street
Merthyr Tydfil
CF47 8AN
Telephone:         01685 725320
E-mail:               mayoral@merthyr.gov.uk