Battle of Britain exhibition comes to Merthyr Tydfil
Categories : Press Release
05 Oct 2022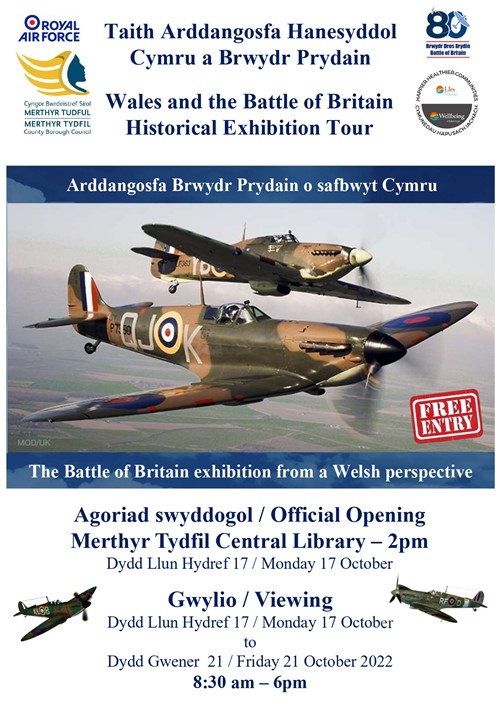 An exhibition telling the story of Wales's contribution in the largest air battle ever recorded is coming to Merthyr Tydfil this autumn.
The Wales and the Battle of Britain touring exhibition was created in 2020 by the RAF's Air Historical Branch to commemorate the 80th anniversary of the Battle of Britain.
Due to COVID-19, the planned tour could not take place at the time, but is now going ahead – albeit two years after the 80th anniversary. The exhibition is touring Wales and will be at Merthyr Tydfil Central Library from Monday 17 to Friday 21 October. Admission is free.
Air Commodore Adrian Williams, Air Officer Wales, who helped create the exhibition said: "The Battle of Britain, the largest air battle ever recorded, was a moment in the Second World War when Britain stood alone against Hitler's seemingly unstoppable military power. 
"The exhibition tells a story that will enable Welsh people of all ages to come along and find out more about what happened in the skies and on the ground during wartime. Uniquely, it focuses on the Welsh aircrew who fought, telling stories about their heroism to a modern Welsh audience. 
"By visiting the exhibition, individuals will have the opportunity to pay their respects to the 'Welsh Fallen' and to those who eventually returned home to their loved ones. It will also present the opportunity to celebrate the many different ways Welsh people and communities contributed to the War effort during the Battle of Britain."
Merthyr Tydfil County Borough Council Leader Cllr Geraint Thomas said: "I'm very proud that Merthyr Tydfil is to play host to this important exhibition. It will be a chance for people to mark the anniversary of the Battle of Britain, honour those who gave their lives and learn about the part that people and communities across Wales played in this historic event."
Armed Forces Champion Cllr Andrew Barry said: "Merthyr Tydfil has a strong contingent of serving, reserve and veteran members of the Armed Forces and a proud tradition of supporting them through our Armed Forces Covenant.
"Events such as this help to ensure that we never forget the fallen and veterans from the two World Wars and other global conflicts, or those currently serving, for the ongoing contribution they make."
Jane Sellwood. Chief Executive of Merthyr Tydfil Leisure Trust, said: "We at Merthyr Tydfil Central Library are pleased to have been chosen as the venue for this exhibition and are proud to help commemorate those who served in the Battle of Britain and honour our Armed Forces Community."
Mayor of Merthyr Tydfil Cllr Declan Sammon will be joined by military representatives to officially open the exhibition at 2pm on Monday 17 October.