Chinese takeaway owner banned from running takeaway and fined for obstructing officers
Categories : Press Release
30 Aug 2023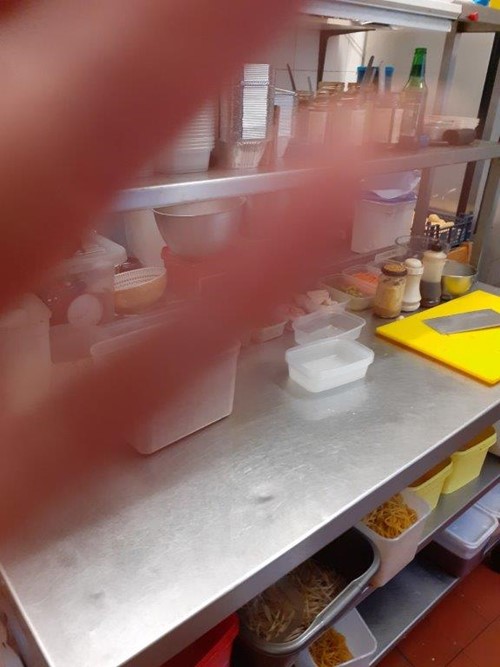 The Aberfan Chinese takeaway in Merthyr Tydfil was found to be operating without running hot water and ordered to close after a routine inspection was prevented by the owner.
Officers from the Council's Environmental Health Department attended Aberfan Chinese on 13th September 2022 to undertake a routine food hygiene and standards inspection.  Upon entering the kitchen, it became evident that there was no running hot water in the premises, yet the business was continuing to prepare food for sale.
Hot water is essential for hygienic handwashing, food preparation and effective cleaning, as well as the disinfection of surfaces and equipment, so inspectors advised the food business operator that they would have to close the premises with immediate effect.
The business owner then attempted to prevent photographs being taken by obscuring and attempting to grab the Officer's mobile phone camera, then went on to shut out the inspectors from the kitchen, preventing the inspection being completed, with officer's equipment locked inside.
A Hygiene Emergency Prohibition Notice was served on the food business operator, and this was confirmed by the Magistrates Court by awarding a Hygiene Emergency Prohibition Order on 21st September 2022.  This order was lifted when adequate supply of hot water was made available.
As a result of the failed inspection, the business was issued a Food Hygiene Rating of 0 which is the lowest score that can be given.
The Food Business Operator, Mrs Xiu Hui Xiao attended Merthyr Tydfil Magistrates Court on 2nd August 2023 and pleaded guilty to all three charges of breaching food hygiene regulations and obstructing officers.
She was fined a total of £960 and ordered to pay costs of £507.82 and a victim surcharge of £384.
Due to the seriousness of obstructing officers and the fact this was the second time the food business operator faced prosecution in 2 years, the Court prohibited Mrs Xiu Hui Xiao from participating in the management of any food business.
Councillor Michelle Symonds, Portfolio Cabinet Member for Regeneration, Housing and Public Protection, said "This case demonstrates that our Environmental Health Officers will take swift and necessary action to protect public health when there are clear failures within a food business that put customers at risk.
"Council Officers have a legal duty to inspect premises and should not be prevented from undertaking these duties. The Court has taken strong action to prevent Mrs Xiao having any involvement in managing a food business and this sends a strong message that officers should not be obstructed in the course of their inspections.
"It is essential that proprietors of food businesses comply with food hygiene regulations.
"I would urge all consumers to check the Food Hygiene Rating of a food establishment before they consider eating from there. It is a legal requirement for ratings to be displayed in Wales to help consumers make informed choices."