Churches, sports clubs and community groups get Ffos-y-fran funding boost
Categories : Press Release
07 Sep 2022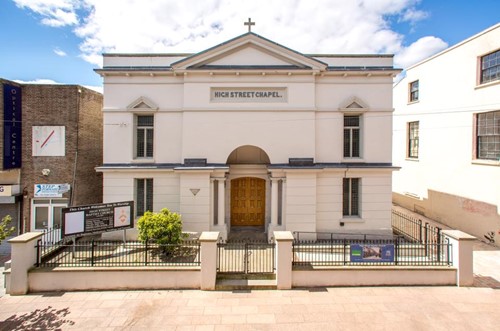 Community groups, clubs and projects across Merthyr Tydfil are to receive awards of between £10,000 and £200,000 from a grants programme funded by the company running the Ffos-y-fran land reclamation scheme.
Three town centre churches will get more than £280,000 between them for extensive refurbishment work, while a range of sports clubs will also benefit from facility improvements, and a community wellbeing centre will get support towards a new minibus.
The Ffos-y-fran Large Grant Scheme makes funding available for projects that help create a 'strong, sustainable and diverse economy', support people in developing new skills, and contribute to making Merthyr Tydfil a more 'vibrant, attractive, safe and sustainable place' to live.
The scheme will award £145,500 to the Friends of High Street Baptist Church's refurbishment project; £110,000 to the Merthyr Tydfil Ministry Area for adaptations to make the most of the space at St David's Church; and £28,140 to Hope Church for the refurbishment of toilet facilities.
Other awards include:
• Merthyr Rugby Club - £199,000 towards new separate changing rooms for teams and referees, showers, a treatment room, toilets and kitchen.
• Georgetown Boys & Girls Club - £43,668 towards football ground improvements.
• Treharris Phoenix RFC - £22,136 towards floodlighting improvements and a scrummage machine.
• Dowlais RFC - £10,044 to purchase a 40-foot shipping container to convert into a stand.
• Merthyr Running Club - £10,000 towards staging the Merthyr Half-marathon in March 2023.
• Ynysowen RFC Mini & Junior Section - £8,767 for a container facility to sell food snacks and for storage.
• Gellideg Foundation Group - £23,200 towards purchasing a minibus for the most vulnerable to be able to get to its wellbeing centre.
• Merthyr Tydfil Leisure Trust - £41,964 for two screens at the Redhouse and on Penderyn Square, to promote events and run activities such as a community cinema and sports broadcasts.
• Stephens & George Charitable Trust - £25,000 for its annual Children's Book Festival.
• Merthyr Tydfil Housing Association - £15,000 for temporary relief to households in crisis due to energy costs, and to encourage their participation in community activities.
The Ffos-y-fran Community Grants Scheme was set up by the County Borough Council in collaboration with Merthyr (South Wales) Limited, which donates £1 for every ton of coal sold from the Ffos-y-fran land reclamation scheme. More than £8m has been awarded to a wide range of groups and causes since the site opened in 2007.
County Borough Council Leader and Cabinet Member for Regeneration and Housing Cllr Geraint Thomas said: "We had a large number of applications to the Ffos-y-fran Large Grant Scheme this time and we were delighted with both the quantity and quality.
"As well as helping our sports clubs to flourish, the funding is also benefitting community groups and residents in deprived areas, along with much-loved cultural events."
We'll be announcing all the successful applications in detail over the coming weeks.