Come and try something new at the Compass Community Hub!
Categories : Press Release
16 Mar 2023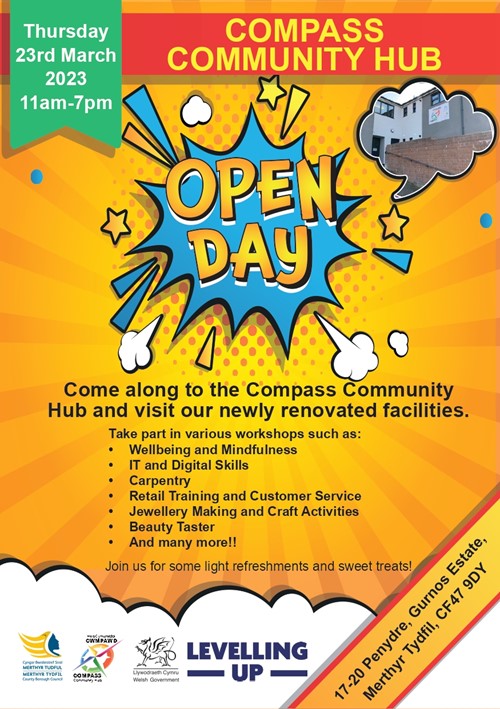 Merthyr Tydfil residents looking to train for new career outlets, upskill or simply take up a new hobby or activity are being invited to attend an open day next Thursday (23 March).
The Compass Community Hub and Housing Project at Gurnos is offering the opportunity to take part in workshops on wellbeing and mindfulness, IT and digital skills, carpentry, retail training and customer service, jewellery making, craft activities and beauty and hairdressing.
The former Neighbourhood Learning Centre (NLC) recently underwent a £1.2m redevelopment programme and is being officially opened on 22 March by Welsh Government Deputy Minister for Social Services Julie Morgan MS.
The NLC opened originally as residential flats, but for the past 25 years has been used as an educational base to help unemployed young people and adults get jobs in a range of vocations.
"The new Compass Community Hub will have a fantastic impact on the area, helping our residents gain skills and training to lead to employability, along with improving wellbeing and promoting social inclusion," said Council Leader Cllr Geraint Thomas. 
"We hope they will turn up to our open day and learn just exactly what they could be capable of with a little help."
Compass Hub Open Day will take place on 23 March 2023, from 11am-7pm. Staff will also take visitors on a tour and talk to them about the services on offer, as well as providing light refreshments.