Consultation on new options for 3-16 Voluntary Aided Catholic school
Categories : Press Release
20 Apr 2021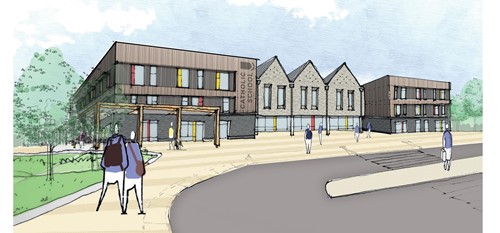 Residents and other stakeholders are being asked for their views on revised options for Merthyr Tydfil's new single all through 3-16 Voluntary Aided (VA) Catholic school.
Following consultation, the County Borough Council approved in January this year, the land south of the Greenie, west of Galon Uchaf Road as the site for the school development.
Leading schools builder Willmott Dixon Construction was appointed to design and develop the school.  The team has carried additional 'scoping work' to meet the Council's aims of presenting an alternative choice for the positioning of the school on the site, addressing concerns that were raised during the initial consultation and the potential to enhance the existing community facilities.
As a result, the two options below are now being put forward:
Option 1 (a development of the approved option A from the initial consultation in November 2020) – now with all car parking and drop-off facilities on the same side of the road as the school building. There would also be shared use of one of the community playing fields, enhanced to an all-weather facility, and with car parking provided for community access out of school hours.
Option 2 (an alternative configuration of the whole site) - the school building now being located on the current Greenie playing fields with both playing fields relocated to the southern end of the site. One of the playing fields would be a shared all-weather facility, and the other field would be accessible to the community at all times.
The Council is running a two-week consultation exercise from April 23-May 7.
Please find links to the survey and site plans here:
https://www.smartsurvey.co.uk/s/rcschoolnewoptions/
Stakeholder consultation events are also being planned online so that the views of residents, community users of the Greenie playing fields, schools/governors, and other key stakeholders are considered and help inform the decision taken.
One of these events will be a public consultation event on Microsoft Teams on Wednesday 5th May.
If you are interested in participating in this event please email 3-16vaschool@merthyr.gov.uk or telephone 01685 725000 and provide your name and a valid email and someone will be in touch to confirm your invitation to the event.
The new school is expected to open on the new site in September 2023 and its construction will mean closure of the current Bishop Hedley High School, St Aloysius RC Primary, and the Federation of St Illtyd's and St Mary's RC Primary Schools.
This provision is a partnership between the County Borough Council and the Archdiocese of Cardiff. The Most Reverend George Stack, Archbishop of Cardiff has said 'The new provision will put us in an advantageous position to deliver the new curriculum and give our children the benefits of an uninterrupted journey" he added. 
"it will allow us to continue to build upon the very good education currently offered in a state-of-the-art campus."
Chief Officer, Learning, Sue Walker said: "We're asking the community to support us in considering the amended options and choosing the best possible site for the school, the community and all stakeholders."