Consultation on plans for wind farm
Categories : Press Release
04 Nov 2022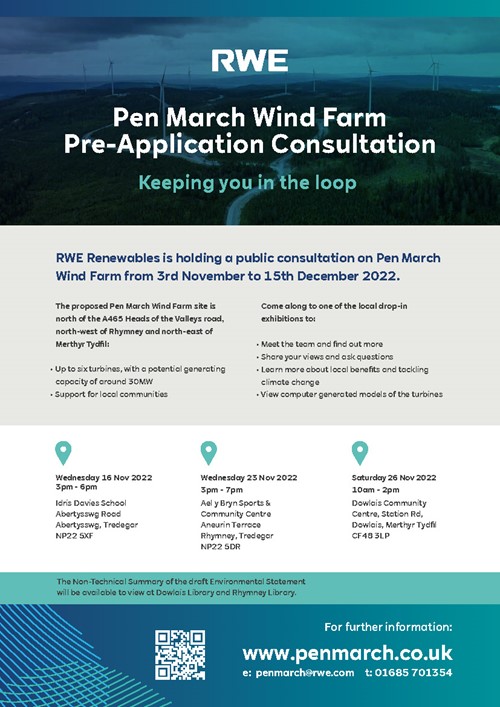 A consultation began yesterday (3 November) on plans to site a wind farm with up to six turbines north-east of Merthyr Tydfil, just above the A465 Heads of the Valleys Road.
Renewable energy generator RWE is running the pre-application consultation on Pen March Wind Farm until 15 December 2022. One of three public exhibitions being held in Merthyr Tydfil and Caerphilly will be at Dowlais Community Centre on 26 November.
RWE says that if given consent, the wind farm would generate enough electricity to power around 24,500 homes. There would also be opportunities for local companies to bid for contracts to help with site preparation and construction.
The company says it is also 'committed to supporting communities that host renewable energy projects by offering community benefits packages for local projects and initiatives'.
Most of the site is registered as common land and makes up part of Gelligaer and Merthyr Common, which also extends to the south of the A465. If constructed, the turbines will have a tip height of up to 180 metres.
An information booklet is being sent to all households within a 3km radius of the site with a Freepost feedback card.
Further details and an opportunity to comment are available on the Pen March Wind Farm website https://penmarch.co.uk/