Consultation on plans to make Avenue de Clichy pedestrian and cyclist-friendly
Categories : Press Release
07 Jun 2021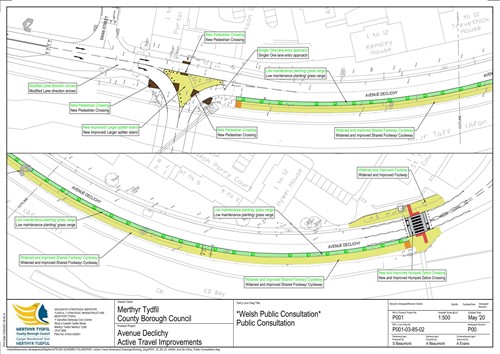 The County Borough Council is consulting residents on plans to create a better environment entering the town centre by making improvements to Avenue de Clichy and the gyratory system.
The proposal would see a shared route for pedestrians and cyclists running alongside the busy road, connecting the leisure village and businesses to the new bus interchange, town centre and train station - while also linking the Taff Trail to the town centre and its facilities.
The route would run from the pedestrian crossing at Caedraw roundabout to the informal crossing at Swan Street, with both crossing points to be improved.  The existing footway will be widened and the grass verge planted with box hedging.
The junction at the gyratory heading north would be altered to remove the give way directions; and traffic travelling south would have a continuous route, with a dedicated left lane and a dedicated right lane for those continuing around the gyratory.
The existing central refuge would be extended to accommodate the change in road layout and also provide safer crossing facilities and improved signage for cyclists and pedestrians.
The plan is that the route would be extended in future phases, with improvements to Caedraw roundabout to follow later this year.
A replacement bridge is also planned across the River Taff, as the existing bridge is sub-standard for cyclists.
To have your say on the proposals, please take part in the following short survey, which is running until midday on 18 June 2021.
We are also having two virtual meetings via the Teams platform on Monday 14 June at 12.30pm and 6.30pm for residents to hear more details and ask questions.  Please email active.travel@merthyr.gov.uk to confirm if you would like to join by midday this coming Friday, 11 June.
Link to survey here and proposals here.