Council congratulates Big Heart on prestigious award
Categories : Press Release
27 May 2021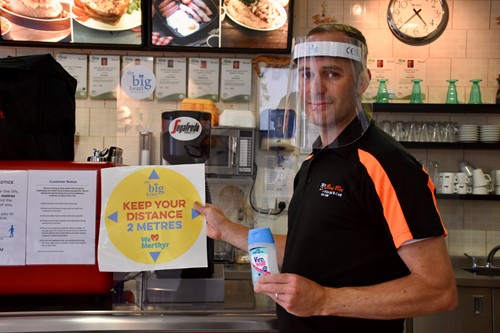 The County Borough Council has congratulated the Big Heart of Merthyr Tydfil on being named one of the best business-led town centre partnerships in the UK.
The Merthyr Tydfil Business Improvement District (BID) has won official accreditation status from British BIDS.
The prestigious award is presented for good governance, strong financial systems and transparency, and The Big Heart of Merthyr Tydfil is one of just 27 BIDS in the UK to achieve accreditation.
More than 200 shops and businesses in Merthyr Tydfil contribute to the BID to promote the town, welcome visitors and create a healthy trading environment.  Accreditation means businesses have assurance they are getting value for money from a well-managed BID.
Elizabeth Bedford, Manager of the Big Heart of Merthyr Tydfil, said: "This is a huge accolade for the town and the timing is perfect, with shops and businesses reopening and our thriving town centre welcoming visitors again."
The Merthyr BID switched its priorities to help businesses through the Covid pandemic, providing PPE equipment, professional free advice and marketing campaigns.
Mrs Bedford added: "We will be running continuous marketing campaigns throughout the year to support businesses.  Other areas of priority are looking at digital needs at a time when companies are looking at e-commerce more than ever.
"But it's likely to be next year before the BID can reboot its popular events programme, including the annual food and chilli festivals."
The County Borough Council's Cabinet Member for Regeneration, Transformation and Commercialisation Cllr Geraint Thomas said: "Despite the difficult circumstances of the past year-plus, the BID Board and staff have continued to show good governance, staff management and levy payer communications. 
"It offers an outstanding service to its member businesses and is helping to ensure they all get back on their feet and help our town centre bustle once again."