Council congratulates Stephens and George Trust on 'grand slam' of top awards
Categories : Press Release
02 Aug 2021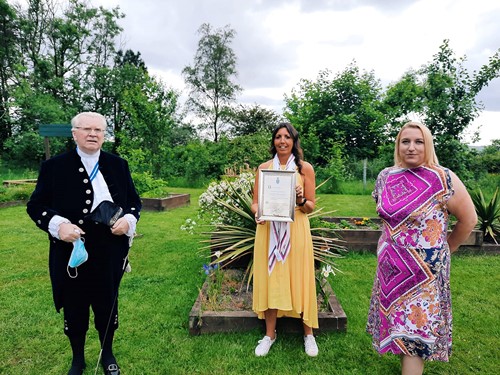 The Council offer our congratulations to Merthyr Tydfil's Stephens and George Centenary Charitable Trust for its grand slam of prestigious awards this summer.
Hot on the heels of picking up the Queen's Award for Voluntary Service - the highest honour volunteers in the UK can receive – the print company's charitable arm also won the Education and Training category at the Charity Awards 2021.
The third accolade came a week later when the Trust was presented with the High Sheriff Award from Jeffrey Edwards MBE, High Sheriff of Mid Glamorgan, for recognition of 'great and valuable services to the community'.
And this month, a book written during lockdown by eight young carers from Merthyr Tydfil Barnardo's - meeting on weekly Zoom sessions - won Outstanding Digital Project of the Year at the Merthyr Tydfil Academy of Success Awards.
The Scarers and Carers book project was funded with a grant won by the Trust, which partnered with Barnardo's, author Mike Church and illustrator Osian Grifford to produce it.
And there could be even more prizes on the horizon - the Trust's Charity Coordinator Helen Hughes has also been shortlisted as a Community Champion at the Chwarae Teg Womenspire Awards 2021 in September.
Council Leader, Cabinet Member for Learning and Trustee Cllr Lisa Mytton said: "The Charitable Trust has showcased Merthyr Tydfil to the educational sector across the UK with these three outstanding awards.
"The Charity Awards' honour recognised the Trust's range of initiatives to tackle low rates of literacy among school children in the county borough, and is a fitting reward for all their efforts. Congratulations yet again!"