Eisteddfod Champions Reminisce Their Victory with Councillors
Categories : Press Release , Education , Schools
27 Jun 2022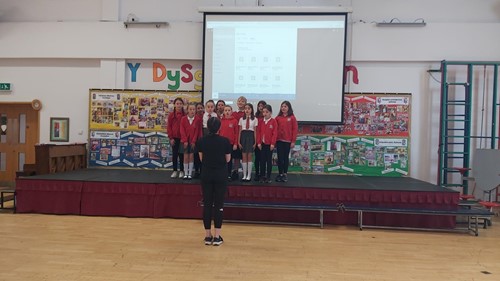 Earlier today, pupils from Ysgol Gynradd Gymraeg Santes Tudful, Pen y Dre High School, and Merthyr College shared their winning performances from the recent Urdd Eisteddfod with Councillors.
The Urdd National Eisteddfod was held in Denbighshire from May 30th to June 3rd, and the participating pupils of Merthyr Tydfil in a range of events demonstrated their creative skills such as singing, reciting, and dancing. The Urdd Eisteddfod is open to schools across Wales and the results from Merthyr Tydfil schools were a credit to the staff and children who have worked so hard to develop the Welsh Language across the County Borough.
Welsh Champion, Cllr Michelle Symonds, commented "It was fabulous to see the children and young people perform incredible pieces of music and speeches this morning, I continue to be impressed by the promotion of the Welsh language within our schools in Merthyr Tydfil. I really believe the WESP education strategy is in full swing and this is another example of that. Da iawn pawb!
Cabinet member for learning, Cllr Michelle Jones added "WOW! I have fully enjoyed this morning, the performances were outstanding, and you could see the passion the pupils have for the Welsh language through their creativity. I will continue to push the WESP strategy forward, ensuring we see more of this success in our County Borough and beyond!"
The Mayor, Cllr Declan Sammon also attended the event and said "It's a real honour and privilege to attend these kinds of events and embrace the Welsh Culture, which I have fallen for since I moved to Wales. I hope other young students will follow in their footsteps and go on to emulate the same success in years to come. It's wonderful to see the Welsh Language being celebrated across the County Borough and I wish everyone who participated today all the best for the future. Gwych, da iawn bawb!