Extended consultation on options for 3-16 Voluntary Aided Catholic school
Categories : Press Release
15 Jul 2021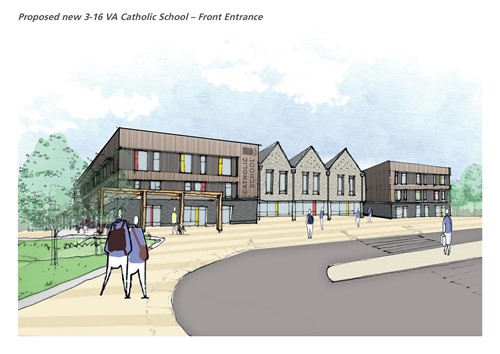 The consultation on the siting of Merthyr Tydfil's new single all-through 3-16 Voluntary Aided (VA) Catholic school is being extended to give local residents and other stakeholders another chance to comment on the proposals.
The County Borough Council's Cabinet has agreed to extend the site options survey carried out in April/May 2021 following concerns expressed by residents of Galon Uchaf, Penydarren and Gurnos wards.
All other users of the Greenie playing fields, parents, staff, school governors, parishioners and other interested parties are also being encouraged to express their opinions.
Once all consultation responses have been received a final report will be taken to Full Council for decision.
Please note: if you have previously submitted a consultation response during April / May 21 then this will be included in the final consultation report to Council.
The two options are:
Option 1 – the school building located on the Buttercup fields with all car parking and drop-off facilities on the same side of the road as the school building. There would also be shared school/community use of the bottom Greenie football pitch, en­hanced to an all-weather facility, with car parking provided for community access out of school hours.

Option 2 - the school building with car parking and drop-off lo­cated on the Greenie playing fields, with both fields relocated to the Buttercup fields. One of the playing fields would be a shared school/community all-weather facility, and the other would be accessible to the community at all times. 
If there are other site options you would like us to consider there is an opportunity within the consultation survey to tell us this under Option 3 – Alternative Site.
The consultation is now being run from Thursday 15 July 2021 to Monday 6 September 2021 and the consultation survey and site plans can be accessed online via the following link https://www.merthyr.gov.uk/vaschool
Alternatively, hard copies can be requested from the Council, either by telephoning 01685 725000 or emailing 3-16vaschool@merthyr.gov.uk
Please complete the survey online using the link above or via hard copy and return to the Council marked FAO 3-16 School Project.
The new school is planned to open on the chosen site during September 2023, and its construction will mean closure of the current Bishop Hedley High School, St Aloysius RC Primary, and the Federation of St Illtyd's and St Mary's RC Primary Schools.
Council Leader Cllr Lisa Mytton said: "We've listened to residents' concerns and extended the consultation to allow them to be expressed.  This school is desperately needed, and we want to find the best solution for the whole community - for pupils, local residents and users of the fields."