Former Pen y Dre students delighted to receive Gold Duke of Edinburgh Awards
Categories : Press Release
22 May 2023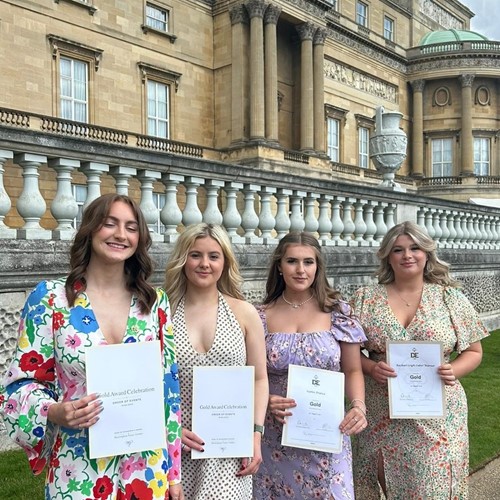 Four inspirational young people were honoured to be invited to Buckingham Palace earlier this month where they each received a prestigious Gold Duke of Edinburgh (DofE) Award.
Founded by His Royal Highness in 1956, The Duke of Edinburgh's Award is widely recognised as the world's leading youth achievement award. Now operating in more than 140 countries, the DofE has helped to transform the lives of millions of young people in the United Kingdom and across the globe.
Rachael Warner, Sophie France, Arianwen Hagerty and Niamh Winstone graduated from Pen y Dre High School, Merthyr Tydfil, in the summer of 2019, as DofE Silver award holders.
Determined to not let the journey end there, and although the pupils had left the school, DofE leader and Head of Welsh at Pen Y Dre, Mr Mark Morgan continued to lead the group successfully to the ultimate goal of achieving their Gold level awards. 
During the DofE programme, the four young people faced challenging expeditions, travelling to the Brecon Beacons, Northern France and the Wicklow Mountains in Southern Ireland.
The group continued to grow and develop their Welsh language skills and excelled at National Eisteddfods, winning multiple gold medals.
As part of their award journey, they also provided a very valuable service whilst volunteering locally, giving back to Merthyr and making a real difference to the people and communities.
DofE Award Leader, Mark Morgan, Head of Welsh at Pen y Dre, said;

"These young women were outstanding pupils whilst at Pen y Dre, achieving huge success academically and in a multitude of extra-curricular activities.
They continue to be outstanding role models for the current pupils and youth community across all of Merthyr Tydfil.
They thoroughly deserve this recognition and we are all extremely proud of them."