Categories : Press Release , Council
10 May 2022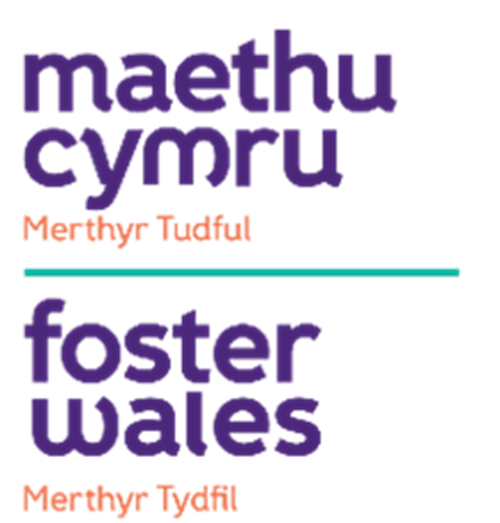 OVER the last two years, families across the country have been hit hard by the impact of the pandemic.
With people not able to see loved ones, schools being closed and lines of support difficult to access, communities across Wales have found other ways to support one another during these most testing of times. This is even more true for fostering families.
Many have used this difficult period as an opportunity to create an altogether more positive 'new normal' - not only in their lives but in the lives of local children. According to Foster Wales, over 350 families in Wales started fostering with their local authority during the Covid-19 pandemic.
This Foster Care Fortnight (9-22 May,) Foster Wales wants to celebrate the difference that foster carers have made to children's lives in Merthyr Tydfil County Borough Council.  From foster carers who have shown dedication over many years to those just starting their fostering journey to help give children a better future.
Foster Care Fortnight is the UK's biggest foster care awareness raising campaign, delivered by leading fostering charity, The Fostering Network. This year's theme is 'fostering communities' and the campaign will focus on the commitment, passion, and dedication of foster carers.
It hopes to shine a light on the many ways people in the fostering community have supported each other during the Covid-19 pandemic – and to highlight the need for more dedicated foster carers.
Lisa Curtis-Jones, Director of Social Services said:
"Foster Care fortnight is the perfect opportunity to give a big thank you to all our amazing Foster Carers and their families, who do an incredibly difficult job but continue to show great compassion, kindness and support for the children and young people they care for. Foster carers and their families open their hearts and their homes to children of all ages, also with differing needs, they help them through some tough times but also have the pleasure to see the progress they make."
Speaking directly to foster carers, Lisa says:
"The last two years you have had to take on more roles due to the pandemic, not just being their care giver, but on times their social worker and their teacher due to home schooling. You provided a safe place for our children when the whole country faced such uncertainty. You all stepped up and embraced the challenges thrown at you and put our children first. Your strength and commitment shines through and I just want to say a huge thank you for opening your homes and hearts to our children, and making a difference in their lives.
This year's theme is 'fostering communities' to celebrate the strength and resilience of fostering communities and all they do to ensure children are cared for and supported to thrive. This is very apt this year when you think about the challenges of the last two years, more than ever the fostering community have needed to pull together to provide strength and resilience for each other.
Foster carers and their families do a fantastic job transforming the lives of many children and young people they care for, so I just wanted to express my appreciation for everything you do and say a huge thank you."
Merthyr Tydfil County Borough Council is one of 22 local authority teams in Wales, working together as Foster Wales, a national network of not-for-profit fostering services.
Foster Wales wants to encourage more people to become foster carers for their local authority so that children can remain in their local area, close to their friends and family and remain in their school. This can help children and young people retain their sense of identity during an otherwise turbulent time.
Alastair Cope, Head of Foster Wales, the national network of local authority fostering services said:
"Most people don't realise that it's your local authority, your local council, who take care of children when their family are experiencing difficulties or when children are living with abusive and neglectful situations, and it's your local authority who finds them a safe place and is responsible for them.
"There is a wealth of knowledge in the Foster Wales local authority fostering team and dedicated social workers who all work together with local families and local schools to build better futures for local children. 
"By fostering locally, you are helping children to stay in their community, with the surroundings, accent, school, language, friends and activities they know. It keeps them connected, builds stability and confidence.
"We'd encourage people not just to foster, but to foster with their local authority, which is part of Foster Wales, a not-for-profit organisation responsible for the children in our care."
One foster carer who decided to open up her heart and her home to care for children and young people in the last 2 years is Leanne from Merthyr Tydfil. 
Leanne became a foster carer with Foster Wales Merthyr in July 2020:
"We came back to the idea in early 2020 but shortly after starting the process, we went into the first lockdown and thought things may be delayed.  However, this was not the case, our social worker took us through the process and the training via telephone, online training and doorstep drop-offs. Essentially, we were the guinea pigs going through this process, but it worked out well and we were approved in July 2020.
My own children love the fact that I'm around so much more than I was. I'm there every morning and evening when they're leaving and returning from school. I don't miss any of their activities and my work-life balance is much healthier than before."
Meanwhile Ron, who has been a foster carer of Merthyr children with his wife, Jacqueline, for nearly 20 years said:
"Taking that first step to become a foster carer can be both daunting and exhilarating. Daunting because of the unknown. But be reassured there is an army of support from dedicated social workers and professionals who will take you by the hand and guide you in the same way you are extending a hand of comfort and hope to a vulnerable young person. Being part of making that difference to a young life is exhilarating.
There is truly nothing like the joy and satisfaction you get knowing you have made an important and life changing contribution to helping a child or young person going through a difficult patch."
To find out how you can foster in Merthyr Tydfil County Borough Council as part of Foster Wales Merthyr Tydfil, visit www.merthyrtydfil.fosterwales.gov.wales