Funding boost to renovate and conserve war memorial at Troedyrhiw Park
Categories : Press Release
01 Dec 2021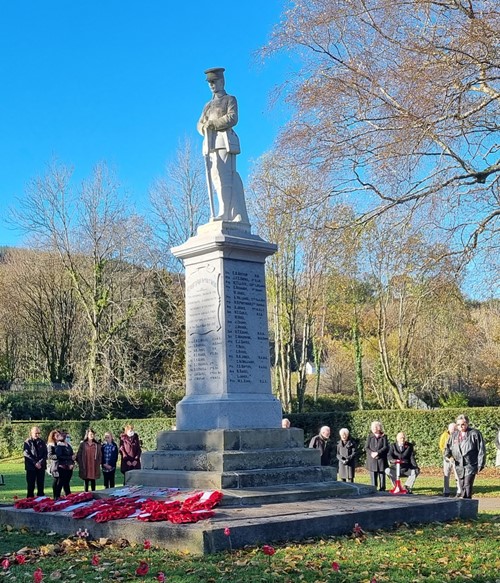 The war memorial at Troedyrhiw Park has received a 100th birthday facelift, thanks to funding from the War Memorial Trust and the Ffos-y-Fran Intermediate Grants Scheme.
The monument, which was originally unveiled to the community on 28 September 1921, had its rifle stolen a few years ago. The total £7,347.60 support was used to reinstate the rifle and replicate the original marble design.
The funding also paid for the repainting of the faded inscriptions of those lost during both World Wars, the repointing of the memorial construction joints and a realignment of displaced steps and a stone cleanse.
Troedyrhiw Ex-Servicemen's & Institute Club Grant made the grant applications, and the work was carried out by Mossfords Memorial Masons.
Ex-Servicemen's Club Secretary Barrie Broad said: "The memorial is the centre piece of Troedyrhiw Park and the work will add to the aesthetic value and attractiveness of the park.
"The club works in partnership with 6th Merthyr Scout Group, Troedyrhiw and St John Baptist Church to arrange the annual Remembrance Day service at the park, where the War Memorial is the focal point."
Ward member Cllr Gareth Lewis said: "I would like to express my sincere thanks to committee members at Troedyrhiw Ex-Servicemen's Cub for their help and support throughout this renovation project.
"I'm really pleased that grant funding has been approved for this project. War memorials are touchstones to our past and preserving them maintains the link between those who have made the ultimate sacrifice and later generations who benefit from the freedoms for which they fought.
"War memorials also remind us of the full cost of war so we can hopefully learn the lessons which help us avoid conflict, and further loss, in future."
The Ffos-y-fran Community Benefit Fund programme was established by the County Borough Council in collaboration with local mining company Merthyr (South Wales) Limited.
It donates £1 for every ton of coal sold from the Ffos-y-fran land reclamation scheme, and since the site opened in 2007, more than £6m has been awarded to a wide range of groups and causes.
The Ffos-y-fran Intermediate Grants Scheme awards grants of up to £5,000 twice a year, while the Small Grants Scheme of up to £1,000 runs throughout the year and can be accessed through local councillors.