Glynmil residents celebrate Gypsy Roma Traveller History Month in style
Categories : Press Release
19 Jul 2023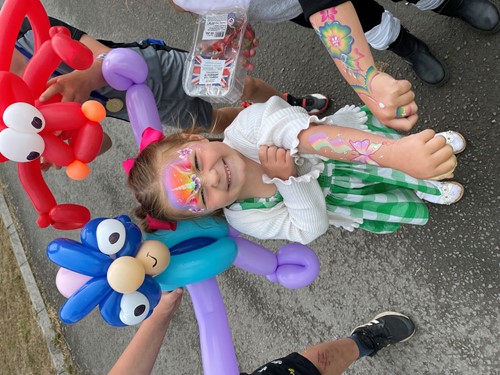 Glynmil Gypsy Travellers' Site was alive with the sound of residents, local schoolchildren, partners, and volunteers all celebrating Gypsy Roma Traveller History Month in June.
The lawns and community centre were filled with members of 20 partner organisations providing craft and other activities in an annual event coordinated by the County Borough Council, which was represented by Mayor Cllr Malcolm Colbran.
"The event coincided with Youth Work Week, and we were delighted that both Georgetown Boys and Girls' Club and Tywn Community Hub were there to offer a range of sports on the greens," said Glynmil Site Manager Lillie Bramley.
"Cardiff City Foundation also organised football, while South Wales Police came along with police working dogs to share some interesting facts about these incredible animals."
Pupils and staff from Abercanaid Primary School and Twyn Community Hub's Megastars disability group spent the day learning about the distinct cultures, with residents sharing stories while accessing the different services available locally.
Community arts organisation Head4Arts - which has been working on site at Glynmil for more than eight years – had decorated the hall alongside resident children, and then offered crafts on the day. Masquerade Arts organised teams to paint faces, make balloon hats, and deliver circus skills workshops.
The team from Cyfarthfa Castle Museum brought local Gypsy Roma Traveller history to life with historical dress and illuminative talks.
"The great atmosphere was felt across the site, with folk music playing on the lawns by Merthyr Tydfil's Celtic Café, and outdoor cookery and leathercraft led by SmallWoods, the national organisation for woodland owners," Lillie added.
"A special thanks to the Council's Cohesion team for offering event support and funding for the day, as well as Merthyr Tydfil Housing Association's Fit and Fed fund, which provided refreshments and healthy snacks throughout.
"The event ran smoothly thanks to volunteers and local partner services who generously offered their time and creativity to support it. We look forward to organising an even bigger event next year in the town centre!"