Grants of up to £5,000 available for local educational, environmental or leisure projects
Categories : Press Release
02 Aug 2022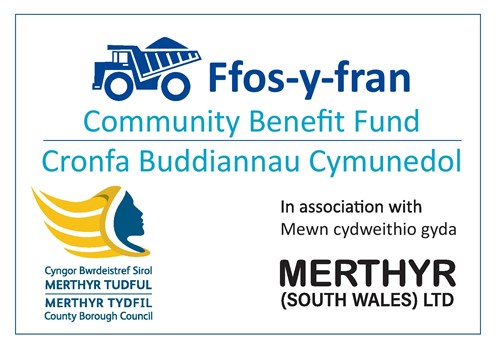 Merthyr Tydfil community groups can apply for up to £5,000 from a local funding pot that has awarded more than £8m to a wide range of groups and causes over the past 15 years.
The Ffos-y-Fran Community Benefit Fund donates £1 for every ton of coal sold from the Ffos-y-Fran land reclamation scheme.
Its Intermediate Grants Scheme, which opened for applications today (2 August 2022), offers grants for projects that support people in developing new skills and contribute to making Merthyr Tydfil a 'vibrant, attractive, safe and sustainable place'.
The projects must be based in the county borough and benefit local residents by having an educational, environmental or leisure emphasis. Grants are for revenue/capital costs and match funding is a requirement, either through cash or in-kind contributions. Schemes focusing on positive health and physical activity outcomes are particularly encouraged, although all are welcome to apply.
Organisations supported by the Intermediate Grants Scheme in recent years include Welsh medium preschool group Cylch Meithrin Pentre Bach, Welsh medium primary schools Ysgol Santes Tudful, Ysgol Gymraeg Rhyd Y Grug, and Ysgol Y Graig, and Tabernacle Baptist Church.
The Ffos-y-Fran Community Benefit Fund programme was established by the County Borough Council in collaboration with local mining company Merthyr (South Wales) Limited.
The deadline for applications for the latest round of awards is Friday 19 August at 4pm. For further information or an application form, contact the Ffos-y-Fran Benefit Fund Coordinator on 07563 398667 or ffosyfran@merthyr.gov.uk