Household waste fly-tipper fined £400
Categories : Press Release
24 Feb 2022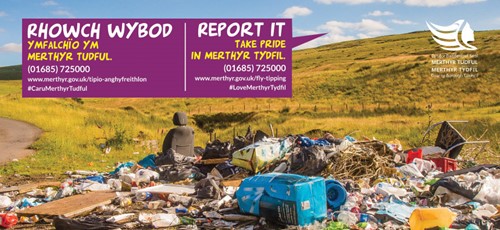 A Fochriw resident has been fined for fly-tipping on mountain land off Bogey Road after County Borough Council Environmental Health Officers identified the culprit.
The woman paid a £400 fixed penalty notice (FPN) for dumping cardboard packaging and bags of assorted household waste.
Council Environmental Enforcement Officer Rob Thomas said: "We're determined to deter the minority of irresponsible individuals whose actions blight Merthyr Tydfil's roads and countryside. We will not hesitate in issuing penalty notices or initiating prosecutions where offenders are identified."
Cabinet Member for Regeneration and Public Protection Cllr Geraint Thomas said: "In a recent reorganisation of Council departments, the fly-tipping team was moved into the Public Protection service area to work alongside other enforcement services and allow a multi-team effort to tackle fly-tipping.
"This marks a new dawn in our battle with lazy, unprincipled people who spoil our beautiful county borough with their rubbish."