Making it a safe party season for residents
Categories : Press Release
24 Nov 2021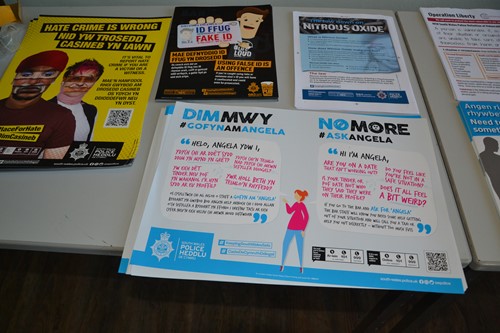 The Council, police and local hospitality businesses are working together to try to ensure residents and visitors have safe nights out in town this Christmas.
South Wales Police are providing training to pub, club and restaurant staff in how to be aware of people in vulnerable situations, while the Council will be asking taxi drivers to be equally vigilant.
The campaign is in addition to our recent Safer Streets-funded CCTV upgrade across the town centre, which has already been instrumental in helping the police investigate a number of incidents.
Cabinet Member for Public Protection Cllr Kevin O'Neill said: "Every Christmas, our licensing team works to make the night-time economy safe, from promoting the 'Ask for Angela' initiative in pubs, to urging the public to use only licensed taxis.
"Last year, of course, it was quiet because the night time economy was in lockdown. So this time we're expecting the festivities to be even busier than usual, with people celebrating especially in light of having lost the opportunity during the 2020 season.
"We're also making a particular effort in response to national coverage of the risk to lone females in this sort of environment."
Local Policing Inspector Jon Duckham said: "Merthyr's town centre has so much to offer, and after a year of restrictions which had a profound impact upon everyone's Christmas last year, many people will be looking forward to what is just around the corner.
"The town is and always has been a relatively safe place for its residents and visitors. With recent investments in cutting edge CCTV across the town centre and dedicated partnership work involving key night-time economy workers, such as bar staff and taxi drivers, the town centre will be safer than ever.
"My message for everybody is to enjoy the festivities, but do it responsibly, always looking after themselves and their friends whatever they have planned."
The Police's 'vulnerability training' will be aimed at encouraging hospitality workers to be vigilant in spotting customers and passengers who are upset, injured or uncomfortable.
Our taxi trade will also be asked to look out for signs that domestic abuse has taken place or will be likely to occur when couples return home, and for young passengers being taken to different locations under control of an adult.
"The aim of the campaign is to promote Merthyr Tydfil as a safe place to visit and in which to socialise this Christmas," said Cllr O'Neill. "By working together, we can try to ensure that it lives up to this billing."