Merthyr Tydfil Mayor completes his final official duty.
Categories : Press Release , Council
19 May 2021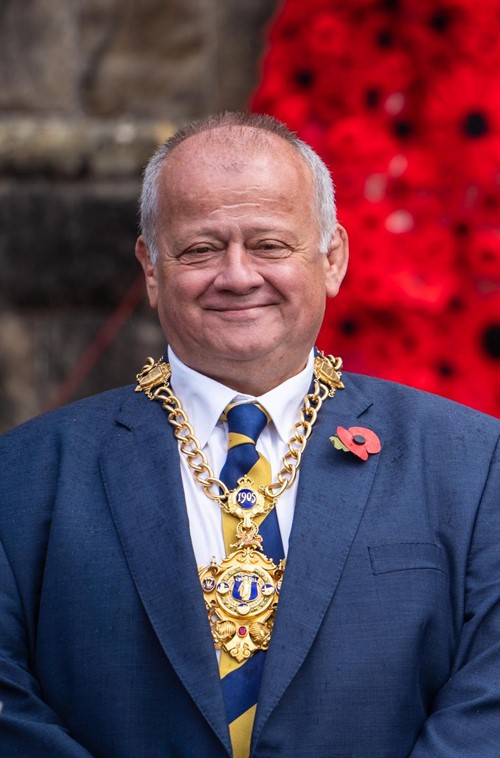 His Worship the Mayor, Cllr Howard Barrett, attended his last official event as First Citizen of the County Borough on Saturday 15th May 2021, when he laid a wreath at the Town Centre war memorial during an event celebrating the 100th Anniversary of the Royal British Legion. 
Howard is Merthyr Tydfil's longest serving Mayor since becoming a County Borough Council, having been in office from 15th May 2019 to 19th May 2021; the first time in the Council's history that a Mayor has served two consecutive terms. Of course, this wasn't intended, and Deputy Mayor Malcolm Colbran was due to take the over as First Citizen in 2020, however Covid-19 had other plans.
Howard represented the people of Merthyr Tydfil at many events during his term, including Royal visits, armed forces events and official ceremonies.  He also met many local young people, including pupils from Merthyr Tydfil schools, giving them the opportunity to ask questions on subjects they felt were important to them – he even gave them the opportunity to try on the official Mayor's chain!
Part of the Mayor's official duties is to Chair Full Council meetings and in October 2020, Howards became the first ever Mayor to chair a Full Council meeting via Microsoft Teams.  Something he won't soon forget!
Howard said of his term in office: "It has been a wonderful experience to represent Merthyr Tydfil at so many varied events and occasions. A personal high for me was attending the Queen's Garden Party at Buckingham Palace in 2019. 
"I've thoroughly enjoyed meeting people from all walks of life, and it's something I'll remember for a long time to come.
"This last year has been one of many challenges and changes, however it was my honour to extend my time in the Mayor's office before handing over to Cllr Malcolm Colbran this evening.  I wish Malcolm all the best for his term in office."
Howard has raised almost £35,000 over the past 2 years for his chosen charity, Macmillan Cancer Care Merthyr Tydfil Branch.