Merthyr Tydfil named among UK's top 10 Easter break 2022 destinations
Categories : Press Release
08 Apr 2022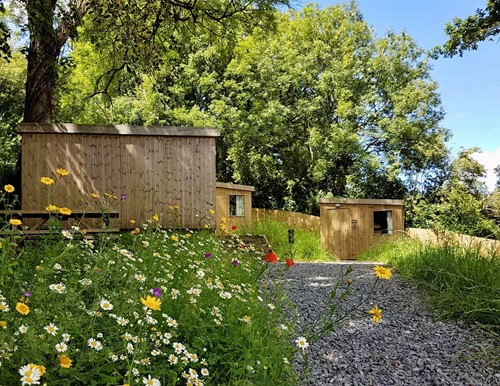 Merthyr Tydfil's tourism sector is bouncing back from the pandemic after being named one of the top 10 trending UK destinations this Easter for Airbnb stays.
The online marketplace for homestays and holiday rentals has revealed that the county borough is listed alongside Prestatyn and Carmarthen for Wales's most booked holiday properties by British people searching the platform.
Merthyr Tydfil is ranked number eight on the Airbnb list, which also features Aintree in Merseyside; Balloch in West Dunbartonshire, Scotland; and Chipping Norton in Oxfordshire.
Local accommodation providers have thanked the County Borough Council for the support it offered them in accessing Welsh Government grant funding to help their survival during the long months of Coronavirus restrictions.
The Roost Merthyr Tydfil glamping site opened in October 2019, primarily as a base for hikers, bikers and outdoor lovers. It is fully booked for Easter with guests coming from across the UK, Massachusetts in the USA and Germany.
"Our international visitors have definitely increased," said co-owner Kath Morgans.  "After an obviously challenging couple of years, which we got through with the support of the Council, it's fantastic to see so many people choosing to visit Merthyr Tydfil and the Brecon Beacons to take part in the activities available.
"Top of the activity list are definitely BikePark Wales and hiking in the Beacons, so when designing the Roost, we made sure to offer the facilities that hikers and bikers need. We now have lots of returning guests, which is great for us and for Merthyr Tydfil."
The Butchers Arms near Pontsticill Reservoir is a bar and restaurant with a bunkhouse that sleeps 18, and also operates an outdoor activity centre. The property received a Welsh Government Covid-19 Grant for Outdoor Equipment to provide outdoor seating for more than 100 people.
"Since the pandemic and with the help of Merthyr Tydfil County Borough Council, we've seen our footfall grow exponentially, helped by the incredible attractions of the Brecon Beacons and people wanting to explore activities such as canoeing, bushcraft, rock climbing, abseiling, mountain biking, archery – all of which we offer here," said owner Huw Carey.
"We're very excited about the future, with accommodation and activities booked throughout this year," he added.  "If there are any positives to be taken from the pandemic, one is that people are realising what we have on our doorstep in Merthyr Tydfil. Thankfully, our local authority is very much switched on in regards to this exceptional growth in tourism."
Prior to the pandemic, at the end of 2019, research showed that Merthyr Tydfil's tourism sector had a total economic impact of more than £103 million - with more than 1.7 million day visitors, and over 200,000 overnight stays. From 2018- 2019, there was a 21% increase in staying visitors and a 51% increase in day visitor numbers.
A recent report prepared by Airdna, which analyses short-term rental data, highlighted that as well as the 69 hoteliers, B&Bs, camping sites and self-catering accommodation providers listed on the Visit Merthyr website, there were 94 self-contained accommodation providers listed locally.
This represents, since the beginning of the pandemic in March 2020, a 35% increase in self-contained property listings.  With the majority of Airbnb accommodation booked up all the way through to the summer, this illustrates demand continuing for 'staycations'.
Chris Long, the Council's Head of Regeneration & Housing, Place & Transformation said: "There's a clear growth in the accommodation sector in Merthyr Tydfil, with more establishments being added to our database and marketing listings on a frequent basis.
"This year already, our Destination Management Co-ordinator has provided support with grading, marketing, development and potential funding avenues to five new accommodation providers: Gwaelodygarth Lodge, Bedrock, Nearly Wild Camping, the Tiger Inn, and Hafod Tanglwys – with many other enquiries coming in for potential accommodation offerings.
"We also have in the pipeline a number of exciting accommodation developments with boutique hotels in the town centre, including Howfields, and the complete refurbishment of Castle House on Glebeland Street as a restaurant, bar and accommodation.
"We're delighted to see the increasing interest in visiting our fantastic county borough.  That interest is helping local economies and communities to flourish."