Merthyr Tydfil to bid for city status in Queen's Platinum Jubilee year
Categories : Press Release
08 Sep 2021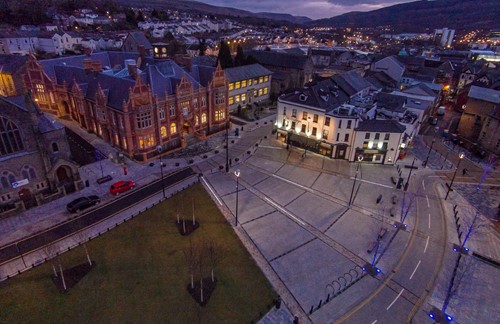 Merthyr Tydfil County Borough Council have welcomed a proposal to bid for city status as part of the Queen's Platinum Jubilee celebrations next year.
At this evening's (Wednesday, 8 September 2021) meeting of the full Council, members heard how becoming a city would help attract inward investment, new businesses and skilled employees, boosting economic and social development in Merthyr Tydfil and surrounding areas.
The bid will have the support of Lord Lieutenant of Mid Glamorgan Peter Vaughan and High Sheriff for Mid Glamorgan Jeff Edwards, who are also Merthyr residents, as well as Merthyr Tydfil and Rhymney MP Gerald Jones.
Urban economic and social researcher Dr Jane Croad, who is coordinating the application, told councillors the many cultural resources and exciting potential of Merthyr Tydfil would be central to the application.
City status should be granted in recognition of Merthyr Tydfil's contribution to the prosperity and safety of the UK and the world through 'coal, steel and many lives', she added.
With the massive improvements in the Heads of the Valleys Road (A465) Merthyr Tydfil was 'a pivotal point' between Swansea and the West Midlands and city status would 'improve the connection and aspirations of the surrounding valley towns and villages which relate geographically and culturally more closely with Merthyr Tydfil than other cities in Wales'.
Council Leader Cllr Lisa Mytton emphasised that becoming a city would give Merthyr Tydfil the same perceived economic and social status as other cities in the UK and compel people both in and outside the county borough to raise their expectations and aspirations for it.
Cabinet Member for Regeneration Cllr Geraint Thomas urged local residents to 'seize this fantastic opportunity to build on Merthyr Tydfil's success and plans for a bright future. "In the technology revolution, Merthyr Tydfil needs the status of city to achieve impetus to seize the opportunities of the new movement," he added.
There are 10 towns in England and Wales in competition for city status – Merthyr Tydfil and Wrexham are the only two in Wales. Some people had questioned whether Merthyr Tydfil was large enough to be a city.
There are 12 cities in the UK with lower populations than Merthyr Tydfil - St. Asaph with a population of less than 3,355 people and Perth with a population of 46,970 were granted city status in 2012, the Queen's Golden Jubilee. So Merthyr Tydfil, with a population of 59,100, is definitely well placed to be a city.
| | | |
| --- | --- | --- |
| City | Population | City status granted |
| St. Albans | 82,146 | 1877 |
| Lisburn | 76,613 | Queen's Golden Jubilee 2002 |
| Carlisle | 75,306 | Medieval |
| Hereford | 60,415 | Confirmed in 2000 by Royal Charter |
| Merthyr Tydfil | 59,100 |   |
| Canterbury | 54,880 | Medieval |
| Inverness | 48,201 | 2000 |
| Lancaster | 48,085 | 1937 |
| Durham | 47,785 | Medieval |
| Perth | 46,970 | Queen's Golden Jubilee 2012 |
| Winchester | 45,184 | AD833 |
| Salisbury | 44,748 | 1227 |
| Ripon | 16,363 | Medieval |
| Armagh City | 14,749 | 1994 |
| Wells | 10,536 | Medieval |
| St. Asaph | 3,355 | Queen's Golden Jubilee 2012 |
| St. David's | 1,408 | 1994 |
Mayor Cllr Malcolm Colbran said: "Winning this bid would fulfil the dreams and aspirations of the people of Merthyr Tydfil to be the city of the Heads of the Valleys.
"It would give a massive boost to businesses and people - we all need to get behind the application and show solidarity in our purpose and our confidence in Merthyr Tydfil."
Contrary to popular opinion, since 1889 there has been no requirement for a city to have a cathedral.
The requirements do include having a distinct identity, civic pride, cultural infrastructure, interesting heritage, history and traditions, vibrant and welcoming community a record of innovation, sound governance and administration, associations with royalty and other distinctive residents, or communities who have made widely recognised significant contributions to society and cultural infrastructure - and Merthyr Tydfil fulfils these criteria convincingly.
During a forthcoming consultation, local residents will be asked to give their views, knowledge and experience to help show how Merthyr Tydfil meets all these criteria.
Council Leader Cllr Lisa Mytton said: "I'm so pleased that my fellow councillors agree that we should definitely grasp the opportunity to achieve what would be a fantastic result for us.
"Merthyr Tydfil has seen millions of pounds worth of regeneration in recent years. We have an amazing new bus interchange, some of the best scenery and outdoor sports facilities in the UK, a wealth of shops and accommodation providers and a rapidly increasing number of restaurants and bars. Why shouldn't we be a city?"
The Council will consider a report from officers before making their decision. 
Applications for Queen's Platinum Jubilee city status must be submitted by local authorities on 8 December, 2021. The announcement is likely to be made in early 2022.