Neighbourhood Learning Centre could become innovative accommodation for young people
Categories : Press Release
11 May 2021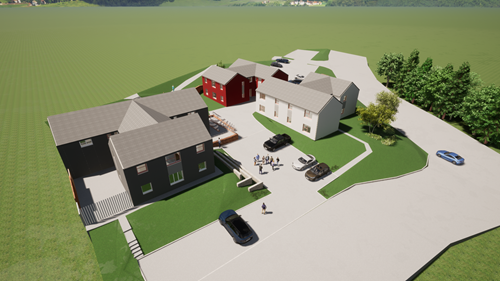 The Council's Neighbourhood Learning Centre at Gurnos could be turned into 'a unique accommodation centre' providing young residents with both housing and onsite training.
The building has for 24 years been used as an educational base to help unemployed young people and adults get jobs in a range of vocations including carpentry, plumbing and construction, hairdressing, and pottery and ceramics.
As part of a Capital Programme investment project, the workshops would be relocated - the training facilities remaining – with one of the four building blocks converted into five self-contained flats.
The NLC currently has a hairdressing unit with professional hair salon equipment, a potter's kiln and a ceramics workshop – and the plan is to also encourage local residents to make use of the centre by offering them community classes in the same skills.
The Council has applied for funding for the project from the Cwm Taf Morgannwg Integrated Care Fund Discretionary Capital Programme, which has identified work with young people and looked after children as a key priority.
The main aim is to help address a shortage of good quality affordable homes in Wales. The building will provide a dual opportunity for young people to live independently while being supported to find employment.
"We know that over many years the Neighbourhood Learning Centre has been an important aspect of many people's lives, helping them to gain skills and jobs," said Head of Regeneration and Housing Chris Long.  "And that role will continue.
"However, the buildings themselves have seen better days, and this redevelopment will transform them into modern, safe accommodation with support staff rooms, improvements to the facades of all the blocks, and improved access and parking," he added.
"Welsh Government has set housing associations and local authorities a target of delivering 20,000 affordable homes between 2016 and 2021.  We're keen to work with partners to meet these targets and want to ensure that there are enough suitable and affordable homes to meet local housing need in Merthyr Tydfil.
"The Neighbourhood Learning Centre creates an opportunity to help with this demand, providing a unique accommodation centre where its tenants will also have access to onsite training that could lead to higher education by attending their local college, and future employment.
"It's important that we are pioneering for our young people to give them opportunity to be ambitious and optimistic for their future." 
The Council is carrying out a consultation exercise, keeping residents informed and asking for their views through a private Facebook group (Neighbourhood Learning Centre revamp), and we are also asking for comments and questions via email, or by phone/post. 
The consultation is taking place from Monday 10 May until Monday 24 May.
Please direct any queries by telephone on 01685 725475 or by email: housing@merthyr.gov.uk
Please note: these images are visualisations that have been designed by our architects for the purpose of this consultation.  This is not the final design, and more attention will be given to other areas of the redevelopment in due course, particularly around the building exterior and landscaping.