Old bus station to be made secure and safe in preparation for future development
Categories : Press Release
10 Jun 2021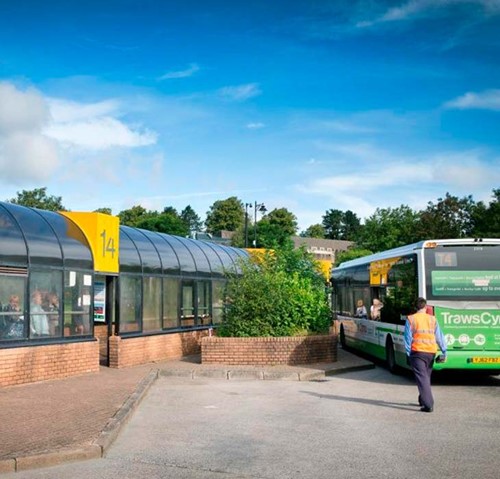 Work will begin to erect hoarding around the current bus station to safeguard the public as soon as it closes on Saturday night (12 June).
The following morning the first buses will depart the new bus interchange at Swan Street, while the Victoria Street site will be made secure over the next three weeks to ensure its safety, in preparation for its future development.
The Glebeland site (the former bus station site) has been identified as a signature project within the Merthyr Tydfil Town Centre 'Placemaking' Plan, a 15-year masterplan, and has been earmarked for mixed use - commercial and residential. 
The County Borough Council is currently considering what the development will involve.  Engagement with our town centre businesses, taxi drivers and the wider community will be key in helping to shape the development of the site.
 "The old station building will eventually be demolished and we're looking at options for the site, which we'll go out to consultation on," said Cabinet Member for Regeneration, Housing and Commercialisation Cllr Geraint Thomas.
"The Placemaking Plan wants to build on Merthyr Tydfil's unique assets by providing high quality residential, office, leisure and retail – with attractive public spaces and active town centre management," he added.
"The plan has been prepared by a team of urban designers, engineering specialists providing transport advice, and commercial property experts.
"There is now further investment planned to allow us to reshape the town centre to better cope with the rapidly evolving context for high street retail."
All bus services including operators Stagecoach, First Call Travel, NAT and Peter's Minibus will transfer from the current station in Victoria Street to the new site, which will also feature a base for South Wales Police, independent café Bradleys and takeaway coffee kiosk Milk & Sugar.