Parc Taf Bargoed awarded Green Flag status for the 12th consecutive year.
Categories : Press Release
24 Jul 2023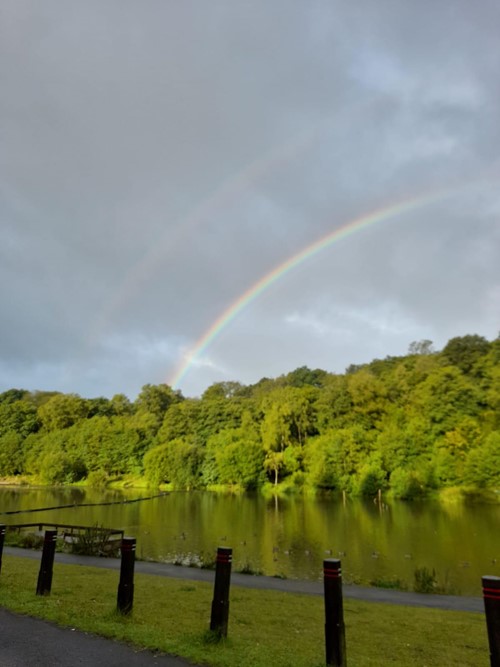 Keep Wales Tidy recently announced that Parc Taf Bargoed has again been awarded Green Flag status – its 12th consecutive year since it was originally given the prestigious award in 2011.
It is joined by Cyfarthfa Park and Aberfan Cemetery, as well as thirteen community projects, in recognition of their environmental efforts, excellent visitor facilities, and community involvement.
Councillor David Hughes, the Council's Cabinet Member for Neighbourhood Services, said: "Attaining the Green Flag for our parks and cemetery is a truly wonderful accomplishment, and testament to the dedication of our staff and volunteers who have created these green spaces. Through their tireless efforts, these areas have been transformed into inviting sanctuaries, providing residents with tranquil spots to relax, unwind, and savour the great outdoors.
"The achievement not only signifies the beauty of these spaces but also highlights their vital role in promoting the wellbeing of our community.
"Congratulations also go to each community group that has given their time to maintain their local green spaces. Thank you."
Now in its third decade, the Green Flag Award recognises well-managed parks and green spaces in 20 countries around the world.
This year a record number of parks and green spaces across Wales have reached the high standards required to fly the coveted Green Flag. 
In Wales, the awards scheme is run by Keep Wales Tidy. Lucy Prisk, Green Flag Coordinator, said: "Free access to safe, high quality green space has never been more important. Our award-winning sites play a vital role in people's mental and physical well-being, providing a haven for communities to come together, relax and enjoy nature.
"News that 280 parks and green spaces in Wales have achieved Green Flag Awards is testament to the hard work of hundreds of staff and volunteers. We're delighted to be able to celebrate their success on the world stage."
A full list of award winners can be found at keepwalestidy.cymru