Pen Y Dre Pupils Triumph at both Eisteddfod Events
Categories : Press Release , Schools
03 Nov 2021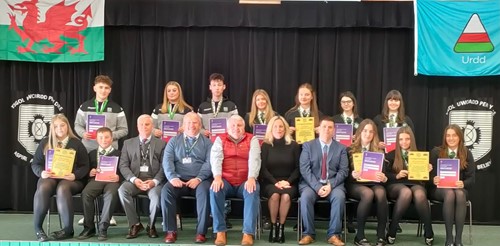 Today, Pen Y Dre High School celebrated their recent successes at the Eisteddfod y Rhondda and the Urdd National Eisteddfod.
In June of this year, 13 pupils led the success at both Eisteddfods with talents such as singing, acting, speech, hot topic discussions and prose. The winners and pupils involved were Millie Rae Hughes, Katie O'Keefe, Millie Gunter, Eve Martin, Lewys James, Cameron James, Lohan Tucker, Alisha Church, Tom Meredith, Hollie Fielding, Millie Kate Barrett, Regan Patterson, Luciann Evans
At the event, the pupils were given Mayoral certificates to celebrate their successes and visited by Cllr Lisa Mytton, Cllr Geraint Thomas, Cllr Malcolm Colbran and Cllr Chris Davies. Cllr Geraint Thomas was over the moon to attend the event and said: "This is a fantastic achievement and is proof that Merthyr Tydfil's children and young people have incredible talents in the Welsh language field. I am very proud of their success and impressed with Pen Y Dre in developing their Welsh language strategy across the board."
This incredible win already follows on from the school's achievement as the first secondary school in the Central South region to achieve the Cymraeg Campus Gold Awards. The successes Pen Y Dre have achieved is one example of facilitating the wider use of Welsh language both within schools and the wider community and championing the identity of Wales, which is one vision that the Raising Standards, Raising Aspirations Strategy aims to achieve. 
Lisa Mytton said: "I was so pleased to have attended the event at Pen y Dre today, it's so wonderful to see the progress the school as made in using the Welsh language in line with its strategy. We really have some fantastic talented young people here in Merthyr Tydfil and I'm extremely proud of them and the school"