Popular Pontmorlais eateries sign up for hot chilli ticket
Categories : Press Release
21 Jun 2022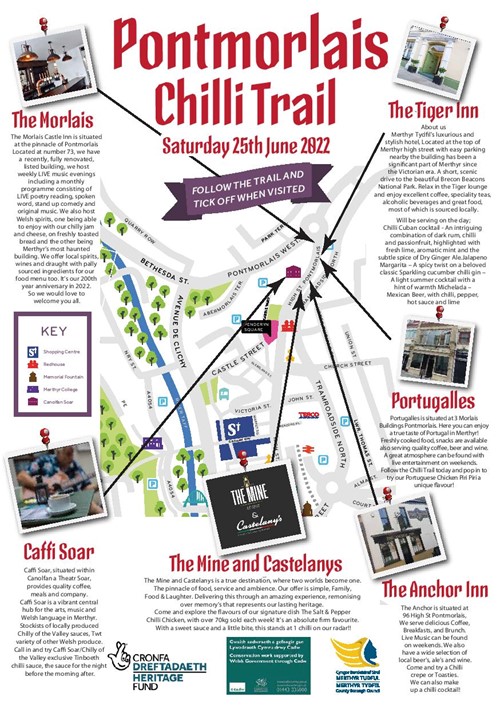 Some of the town's most popular restaurants, bars and cafés have signed up for the hottest ticket in town when the Merthyr Street Chilli Fiesta returns this weekend.
The 'Pontmorlais Chilli Trail', funded by Townscape Heritage (TH) - an historic building improvements grant scheme run the Heritage Lottery Fund (HLF) programme - will give visitors to the annual festival the opportunity to continue sampling chilli recipes indoors after they've browsed the many outdoor stalls in Penderyn Square on Saturday 25 June.
Three of the six indoor venues have opened in just the past year: phenomenally successful The Mine and Castelany's, the Morlais Castle Inn and the Tiger Inn are all adding chilli dishes to their main menus for the day.
Along with the popular Anchor Inn, they'll be joining established trail businesses Caffi Soar at Canolfan a Theatr Soar, the Anchor and Portuguese favourite Portugalles, which are also spicing up their repertoire.
Food and drink on offer will include chilli crepes, toasties and cocktails at the Anchor, Salt & Pepper Chilli Chicken at the Mine and Castelanys, Tinboeth chilli sauce at Caffi Soar, chilli jam and cheese at the Morlais Castle, Chicken Piri Piri at Portugalles, and Chilli Cuban cocktails, Jalapeno Margaritas and Mexican beer at the Tiger Inn.
The Chilli Fiesta – which last took place in 2019 due to the pandemic – will see some of the best chilli producers from around the UK exhibiting products including naga cooking sauces, chilli plants, chocolate and chilli merchandise. It runs from 10 am to 5pm and entry is free, with parking for just £1 for the full day in the town centre pay and display car parks.