Proposals to improve Rhydycar footbridge
Categories : Press Release
14 Jan 2022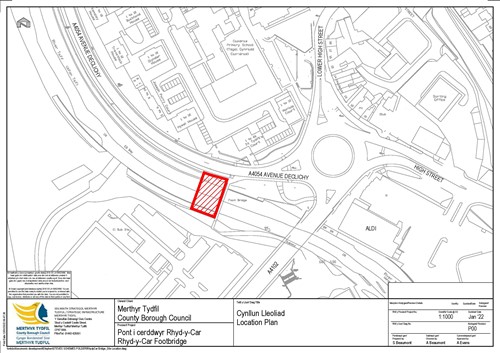 As part of its Active Travel programme, the Council is considering plans to improve the footbridge linking Merthyr Leisure Village, Rhydycar to the town centre.
The current footbridge is a well-used route across the River Taff to Avenue de Clichy, but has height restrictions and is too narrow for people and cyclist to pass one another.
The Council has an opportunity to bid for Active Travel funding from Welsh Government and is seeking the opinions of residents.
"We're taking advantage of Welsh Government support to deliver improvements for pedestrians and cyclists across the town centre," said Cabinet Member for Regeneration, Housing and Commercialisation Cllr Geraint Thomas.
"We want to make life easier for people crossing the footbridge in wheelchairs or with buggies and also want to encourage cyclists and others using the Taff Trail to come into the town centre."
The new bridge would be relocated slightly north towards a new crossing point and be 3.5m wide, allowing both pedestrians and cyclists to cross at the same time. 
The existing bridge will remain in place until the new bridge is opened to minimise inconvenience. 
If you have any suggestions to make, please email active.travel@merthyr.gov.uk or leave comments below the post.