Spring into a new job for 2023!
Categories : Press Release
01 Dec 2022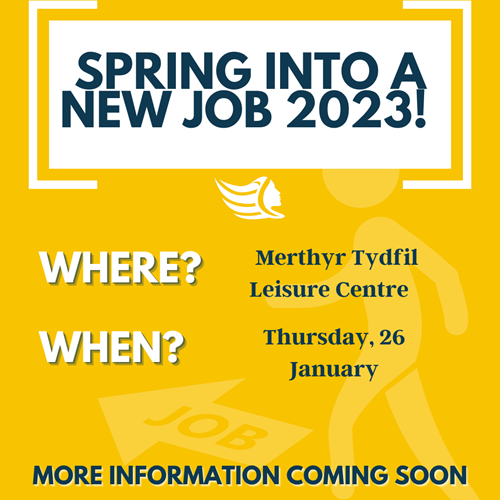 People looking for a new job for the new year are being given the opportunity to meet employers from some of Merthyr Tydfil's biggest and most popular recruiters at a January jobs fair.
The event at Merthyr Tydfil Leisure Centre on Thursday, 26 January will give both unemployed and employed people wanting a change the chance to find out what positions are available locally.
A wide range of sectors will be represented at the fair, from Merthyr Tydfil County Borough Council showcasing the diversity of local authority work, to advanced manufacturing and engineering companies with vacancies.
The 'Spring into a New Job' morning is being organised by the Council's Employability Team in partnership with Merthyr Tydfil Job Centre Plus.
Council Leader Cllr Geraint Thomas said: "We've traditionally staged numerous recruitment events, but have had to put them on hold for the past almost three years due to the pandemic.
"We're delighted to see them back, and have had resounding success with two such lower key events held recently with Stagecoach and The Mine & Castelany's Fine Dining restaurant.
"This time, we'll be pulling out all the stops to ensure as wide a range of our employers as possible will be represented at the jobs fair, and introduced to as many potential employees as we can."
Spring into a New Job is taking place from 10am-1pm in the Leisure Centre's main hall, and we'll be giving you plenty of further information over the coming weeks.