Statement on new 3-16 VA Catholic School
Categories : Press Release
23 Jun 2021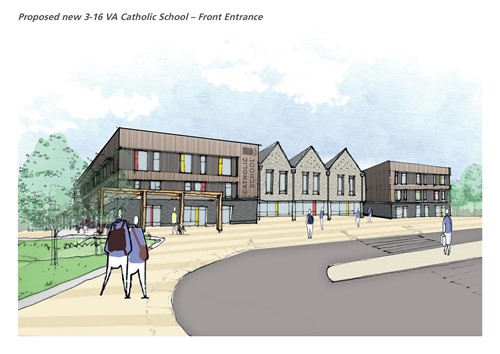 The County Borough Council would like to address residents' concerns about the new 3-16 VA Catholic School planned to open in September 2023.
In June 2016, the Council approved the delegation of powers for school organisation decisions to the Cabinet.
Comments have been made on social media that residents have not been consulted on the proposals.  There have in fact been four consultations on the school since 2018: in September 2018, April 2019, November 2020 and April 2021.
In the most recent consultation, we stated that the plans would mean a realignment of the community facilities on the Greenie and Buttercup Fields in Galon Uchaf.
The Council is committed to increasing the community use of all school facilities and the new 3-16 school is being planned with a distinct community focus.  There will be an increased opportunity for community groups to use the wider facilities provided within the school building and site including other sports and play facilities.
There will be a dedicated shared community/school all-weather football pitch with floodlight provision which will be for school use during school hours and available for community use out of hours.  In addition, there will now be car park access in the evening and on weekends for community football use to ease the current issues along Galon Uchaf Road.
There will also continue to be a community grass pitch with community changing facilities outside of the school grounds and these will be provided on the Buttercup Fields, with the community always having to access to this grass area.
The current Multi-Use Games Area (MUGA) will remain where it is and continue to have open access for the community.  Whilst the community playground will be repositioned, it will remain at the northern end of the site near to Galon Uchaf and the MUGA.  
As the design process continues, further plans will be agreed, including a Traffic Impact Assessment.  There are also plans for the public right of way to the Gurnos that goes across the Greenie to be enhanced and to provide a better quality path connecting the communities of Galon Uchaf, Penydarren and Gurnos.
Leader Cllr Lisa Mytton said:  "There has been much comparison with the decision made regarding Ysgol Y Graig.  The consultation on Ysgol Y Graig started in 2011 and, if the use of the playing fields there had been agreed, would have left the community with a three-quarter size rugby pitch.  However, we still had to compromise with loss of green space for a road and car park.
"We understand the strength of feeling from residents, but we can assure them that the development of the Catholic school has been looked at from every angle, and we believe these current options will not only provide a fantastic facility for our children but also the community."