Town centre a safer place following £500,000 security boost
Categories : Press Release
13 Oct 2021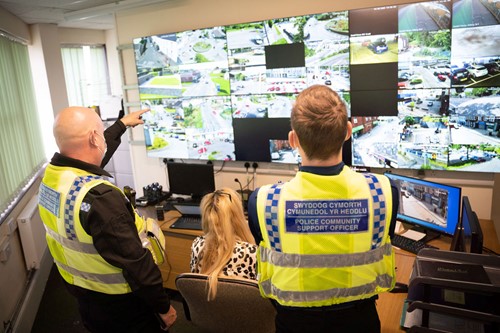 Merthyr Tydfil town centre has been given a security overhaul by the Council and South Wales Police with the aim of making our residents feel safe at any time of the day or night.
State-of-the-art CCTV cameras now cover the town centre, the car parks have been made safer with improved street lighting, and gates have been installed at alleys where there have been issues with drug taking, drinking and fly tipping.
'Project Penderyn' received more than £500,000 from the Home Office's Safer Streets Fund, which is running across England and Wales to support initiatives aimed at preventing crime and other offences having an impact on the community.
The funding was secured after a successful joint bid from the County Borough Council, South Wales Police, Police Crime Commissioner Alun Michael and Merthyr Tydfil's' Community Safety Partnership.
"Project Penderyn was built on the results of a survey of residents last year, asking for their views on the level of crime in the town centre," said County Borough Council Cabinet Member for Public Protection, Cllr Kevin O'Neill.
"That allowed us to have a better understanding of issues affecting our residents' day to day activity," he added.  
"On the back of their concerns, we successfully bid for funding and now have in place both fixed and mobile CCTV cameras monitoring the town centre around the clock.
"Working with South Wales Police, the town centre security team and the Council's Community Safety department, we can start addressing the public concerns about safety in the town centre area."