Unique training and residential hub opened by Minister
Categories : Press Release
22 Mar 2023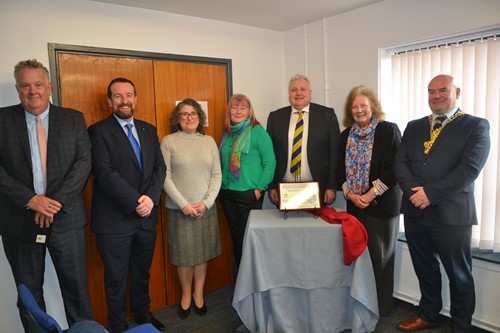 A unique training and residential centre in Merthyr Tydfil was officially opened today (22 March, 2023) by Welsh Government Deputy Minister for Social Services Julie Morgan MS.
The Compass Community Hub and Pen y Dre Apartments at Gurnos, formerly the Neighbourhood Learning Centre (NLC), has undergone a £1.4m redevelopment with funding from the County Borough Council and a range of partners.
Originally a block of residential flats, for the past 25 years the centre has been an educational base to help unemployed young people and adults get jobs in a range of vocations. It will continue to offer employability and training facilities, with one of the three buildings converted into five self-contained apartments for young people aged between 16-24 at risk of homelessness
Tomorrow (23 March), the hub is hosting an open day where local residents will be invited to take part in workshops on the training and other activities that will be on offer every day. These include: IT and digital skills, carpentry, retail training and customer service, jewellery making, craft activities, beauty and hairdressing, and wellbeing and mindfulness.
The project has been supported through £1,129,174 from Cwm Taf Morgannwg's Regional Partnership Board - funded by Welsh Government - as part of the Integrated Care Fund Main Capital Programme, which has identified work with young people and looked after children as a key priority.
A further £260,000 came from the Council's Capital Programme investment project and £129,115 was also awarded from Welsh Government's Housing with Care Fund through the Regional Partnership Board to allow the project to be completed in 2022.
The Deputy Minister said: "I am delighted the Welsh Government has been able to fund this important and innovative project. It will help safeguard young people in this area from the harms of homelessness by providing good quality accommodation and opportunities for them to learn and upskill.
"It is an also an excellent example of partnership working delivering for Merthyr Tydfil. I am sure it will prove a valuable asset to the community for years to come."
Council Leader Cllr Geraint Thomas pointed to the 'significant challenge faced locally in supporting the disproportionate number of those with multiple and complex needs in the county borough, the significant support required to provide housing and much needed help for people to live independently and thrive'.
He said: "The housing element of this scheme will help young people at risk of homelessness access quality accommodation, training and employability services, and support via partners and colleagues from the Community Hub.
"There is a strong sense of place within Merthyr Tydfil and the regeneration of our underused and vacant buildings into essential quality accommodation will help in our Rapid Rehousing Transition over the coming years," he added.
"The Compass Community Hub will become an integral part of the community and the whole county borough with a view to encouraging learning and upskilling, improving wellbeing and promoting social inclusion."
Cllr Jane Gebbie, Chair of the Cwm Taf Morgannwg Regional Partnership Board said: "This unique project is so exciting.  It allows young people to live in warm, safe homes where they can feel part of a community, but with the support they need, at the right time and place.
"It gives young people opportunities to improve their skills, learn and discover new talents, where they live. Having access to a range of brilliant vocational courses will help to improve their wellbeing and could lead to future employment.  I look forward to seeing how they benefit from this project for years to come."
Merthyr Valleys Homes Deputy Chief Executive Officer Stacy Thomas said: "This project has been a great partnership with our local authority partners and Welsh Government.
"Pen Y Dre Apartments are located within a community with a strong sense of belonging and pride. Providing these beautiful and safe new homes for young people to begin their adult lives here is something that we have been proud to be part of.
"Providing new homes is about more than just numbers - it is about providing the right types of homes in the right areas and for the right reasons. Having the wraparound support of the community hub, as well as the local community, provides a great opportunity for these young people to thrive."