Volunteers clear over 12 tonnes from local beauty spot
Categories : Press Release
19 Nov 2021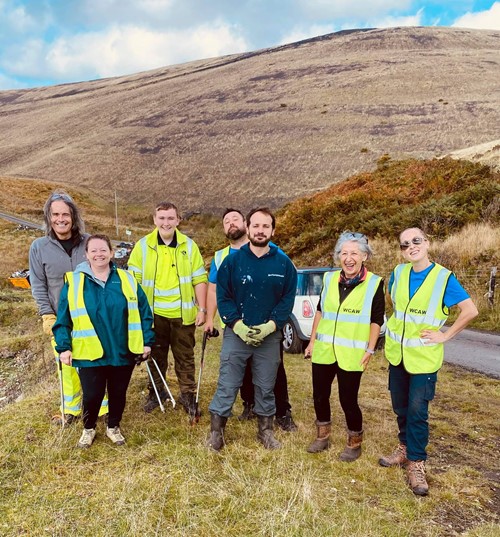 In October, 14 volunteers gave up their weekend to clear fly-tipping from a Merthyr beauty spot.
The event, which was organised by MTCBC Neighbourhood Services Apprentice Daniel Lewis, saw people come from as far afield as Wolverhampton to help.
In just four hours on the Saturday morning over 4 tonnes of waste were cleared from Bogey Road, with a further 8 tonnes being cleared from Dowlais Road during Saturday afternoon and throughout Sunday. A total of 6 skips, which were provided by the council, were filled. Waste collected included builder's waste, domestic waste and asbestos.
Daniel said: "It is our responsibility as Merthyr residents to ensure that our waste is disposed of correctly. There are two Household Waste & Recycling Centres in Merthyr Tydfil which accept and recycle most waste types for FREE. There are also a number of registered waste carriers that are able to correctly dispose of other types of waste.
"There is NO EXCUSE for fly-tipping and littering. It is a blight on our beauty hotspots and a danger to our environment and local wildlife.
"This project would not have been possible without the full support of our Chief Executive, Ellis Cooper, MTCBC's Neighbourhood Services Department and all the volunteers. I am proud to have worked alongside them."
All waste collected was sent to be sorted and – where possible – recycled.
A huge thank you to members of Wild Campers Against Waste, South East Wales Hang gliding and Paragliding Club, Jess Flag Litter Action Group, The Merthyr & Gelligaer Commoners Association and everyone else who came out to help and offered their support.