Warning issued against recycling gas canisters and laptop batteries
Categories : Press Release
03 Sep 2021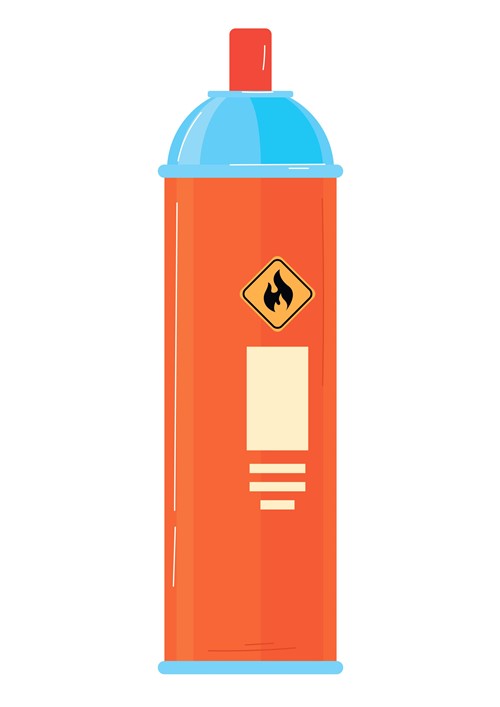 A warning is being issued for Merthyr Tydfil County Borough residents not to put any gas canisters, such as those used in camping, out with their kerbside recycling or wheeled bin collections.
During the past few weeks, several bangs have occurred at the Waste & Recycling depot in Pentrebach due to gas canisters exploding when being compressed alongside other materials.
With the recent hot weather more and more of us have been eating outdoors, using the portable gas stoves that are commonplace in camping and caravanning. Unfortunately, the gas canisters used for these stoves are not suitable for recycling at the kerbside.
Once plastics and metals are collected by the crews, they are separated and then compressed at the depot into bails for further processing. Because these cooking gas canisters contain traces of propane or butane, this creates an extremely dangerous combination when they're compressed alongside flammable materials.
Councillor David Hughes, Portfolio member for Neighbourhood Services, said: "In the interest of our yard staff, crews and Household Waste & Recycling Centre (HWRC) staff's safety, we're appealing to all residents to make sure that they dispose of these canisters safely and responsibly. They should be taken to the HWRCs in either Dowlais or Aberfan and, once at the site, residents should seek advice from staff as to which container they should be placed in.
Councillor Hughes added: "We have also been experiencing issues with laptop batteries being put out for recycling at the kerbside and would like to take this opportunity to advise residents that these should also be taken to their local HWRC to be recycled safely."
A reminder that empty household aerosol cans, such as deodorant and air freshener cans, CAN be recycled at the kerbside by putting them in the blue re-useable sack along with plastics and metals. Please can residents ensure they empty aerosol cans before placing them into the blue sack to prevent further bangs occurring.
For further information about recycling in Merthyr Tydfil, please visit www.merthyr.gov.uk