Work about to begin on YMCA transformation
Categories : Press Release
14 Apr 2022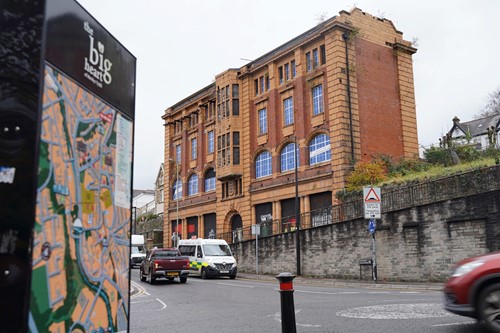 Planned structural work is about to begin on the £8.6m refurbishment of the former YMCA building as a high quality multiple commercial unit economic hub for local businesses.
The Grade II Listed building, which has been derelict for more than a decade, will be brought back into use following investment from the National Lottery Heritage Fund's Heritage Enterprise Programme, Welsh Government's Building for the Future and Transforming Towns programmes and the County Borough Council.
As part of the refurbishment, from Tuesday 19 April, John Weaver Contractors will begin to carry out essential work to the rear of the building, from 8am-4.30pm Monday to Friday for around three weeks.
The work will involve the delivery of a mobile crane, which will be on the site for the duration of the three weeks.  To allow it access, there will be a short closure of Park Terrace on 19 April, which should taken no longer than 30 minutes.  No other roads will be closed, and there is not expected to be any traffic control in place.
The four-storey former YMCA, a prominent building 'of international significance' and a landmark at the northern end of the town centre, was created by leading Welsh architect Sir Percy Thomas in 1911.
The project is part of the wider regeneration of Merthyr Tydfil and will provide 10 separate letting units in 'high quality commercial space in a uniquely historic setting', for businesses and the local community.
During the initial work, the contractor is aiming to keep any noisy activities to a minimum, with crane lifting operations and other procedures carried out in a secured hoarded area.
Residents of Park Terrace are asked if they could keep clear access to the site entrance, the Masonic building, and rear of properties numbers 9 and 9A Park Terrace on the start date so that plant/equipment and workers can carry out safe manoeuvres.
"Health and safety considerations are at the heart of all construction projects, with sites being potentially very hazardous locations," said Site Manager Nigel Latham. "We assure residents that all possible precautions will be taken, and apologise for any inconvenience caused."