Youth Mayor Andrew is inaugurated
Categories : Press Release
28 May 2021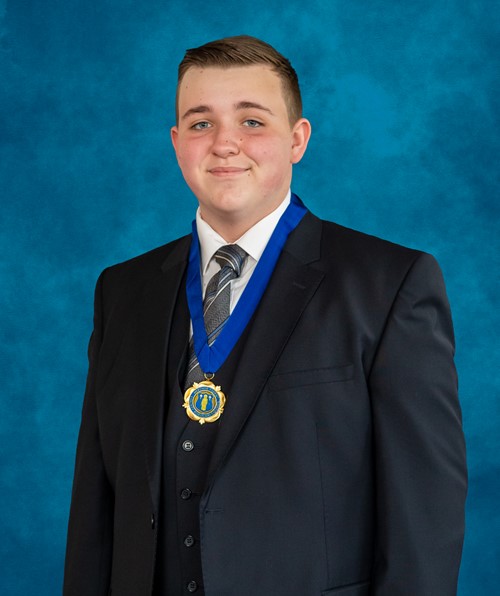 The new Youth Mayor of Merthyr Tydfil is 14-year-old Andrew Millar, a student at Cyfarthfa High School.
Andrew became the 11th Youth Mayor of the county borough on his inauguration at the Civic Centre earlier this week.  Fellow Cyfarthfa High School Samee Furreed became the Deputy Youth Mayor.
In his acceptance speech, the Youth Mayor outlined his three pledges for his term of office.  His first pledge was to 'encourage and improve life skills into the curriculum in schools'.
Andrew's second pledge was to increase awareness about mental health and tackle the taboo stigma that surrounds it.  And his third pledge was to encourage young people in the county borough to vote by increasing their knowledge about society and politics.
During his term of office Andrew will be fundraising for the Merthyr Tydfil Only Boys Aloud charity.
Andrew said: "I am honoured that young people in Merthyr Tydfil have chosen me to be their Youth Mayor.  It is a fantastic opportunity and I will do my best to represent you and ensure that the views and opinions of young people in Merthyr Tydfil are listened to and acted on."
The creation of the role was instigated by the Merthyr Tydfil County Borough Wide Youth Forum (MTBWYF), whose Youth Cabinet makes sure young people's voices are heard and make a difference to services for young people.
Young people aged 11 to 23 can nominate themselves as a candidate for the youth mayor's role. The post holder acts as a role model for young people and attends functions and events alongside the adult mayor.
Andrew would like more young people to get involved in the Forum.  If you would like further information about how to get involved then please contact Senior Youth Support Participation Officer Janice Watkins at Safer Merthyr Tydfil on 01685 353999, or contact us via our Facebook page or twitter @MTYouth.